A sex abuse and cover-up lawsuit against former priest Msgr. Michael Harris, Mater Dei High School and the Diocese of Orange is slated to go to trial in Orange County Superior Court on June 18.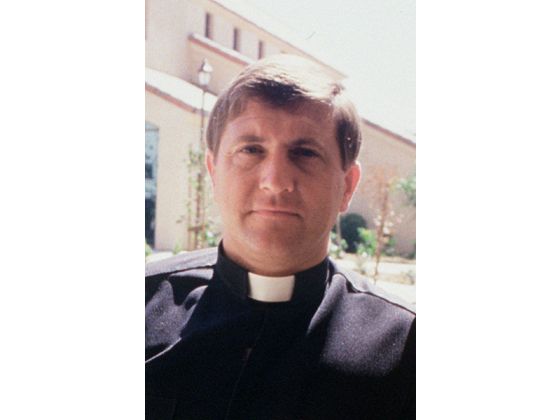 Harris, the former principal of Mater Dei and Santa Margarita High Schools, has been smack in the center of the clergy sex abuse scandal in Orange County, with at least nine accusers settling with the Diocese of Orange in 2005, twelve accusers listed by the Archdiocese of Los Angeles, and a record $5.2 million settlement with victim Ryan DiMaria.
Frankly put: Harris is a menace. We have seen Harris' psych reports from the most notorious church-run facility for child molesting clerics (information that Msgr John Urell kept secret), and in 2001, Bishop Tod Brown told the Los Angeles Times:
The Diocese of Orange has grave doubts about [Harris'] innocence in these matters, taking into consideration the number of complaints made against him, the similarity of those complaints and the apparent sincerity of the persons making these statements.
The attorney for the victim, John Manly (another Mater Dei grad), is just coming off of a huge win in Stockton, where a jury unanimously decided that Fr. Michael Kelly sexually abused former Air Force pilot Travis Trotter. The Diocese of Stockton refused to remove Kelly from ministry during the litigation and spent four years trying to discredit Travis. After the verdict, Kelly skipped to Ireland. The case eventually settled for $3.75 million on the eve of the scheduled testimony of Cardinal Roger Mahony.
No one knows Mater Dei, Harris and the Diocese of Orange better than Manly and his team do. There's going to be a whole lot of Diocese dirty laundry aired. Want a great start off for your research? Start here. Since 2003 Gustavo Arellano at the OC Weekly has covered the story better (and longer) than anyone else.
If you went to Mater Dei or Santa Margarita, sent your kids there, or donated money to the schools, you owe it to yourself to follow the trial. Although Harris is no longer a priest, his ties to the Diocese and Orange County money are strong. He's only a free man because Mater Dei and Diocese officials didn't care enough about any of the kids Harris abused to pick up the phone and call the cops. Shame on all of them.
Disclaimers – I was a student at Mater Dei at the tail end of Harris' tenure there. I had very limited interactions with him. But then again, he had very limited interactions with most girls. John Manly was my attorney in my 2003 case against the Diocese.