As I stated in my previous post, little has changed in the Diocese of Orange since 2005, when church officials settled sex abuse and cover-up lawsuits with 87 child victims.
I'd thought I share a little Facebook proof with you.
Now I will admit, I have been sitting on this information for a while. The reasons, like this post, were personal.
I know, love, and respect many of the people who were at this spring's Mater Dei High School Grand Reunion (people like my father, who were pretty disgusted to see what I am about to show you here). My dad is almost 80, and going to his high school reunions are an annual treat (yes, they have them almost every year). I didn't want to ruin it for him and his friends by ranting right away.
But after today's article in the Orange County Register, I couldn't keep it quiet anymore.
Exhibit #1
Two-time accused former faculty member enjoys the reunion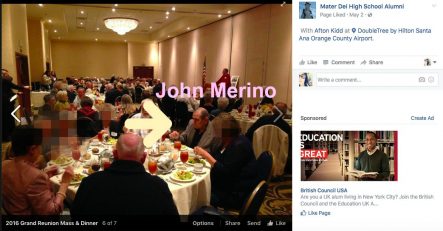 Yep, THAT John Merino. Two sex abuse cases against him settled in 2005. he was the guy who, along with former principal and 25-time accused predator Michael Harris, took a "special graduating senior boy" to NYC every year to see Broadway musicals. And shared a room.
Even St. Mary's and All Angeles School and the Macy Awards have distanced themselves from the disgraced educator. But the school where the alleged abuse happened? Nope.
By the way, current school president Patrick Murphy was at the reunion, stumping for cash. Murphy was school president during the sex abuse lawsuit scandal of 2003-2005 and was principal when Merino was "let go" from the school in 2001. So no one can claim ignorance.
Exhibit #2
Principal who covered up abuse says Mass at Grand Reunion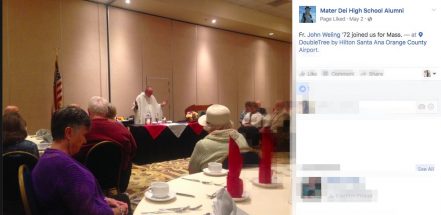 This is where things get personal.
Sure, Fr. John Weling is a graduate of Mater Dei and does have the right to go to the reunion. But what about my dad? Doesn't he have the right to enjoy a reunion without having to encounter the man who personally covered up his daughter's sexual abuse?
And it wasn't just my abuse he covered up. Weling was principal right after serial predator Michael Harris. Weiling had to play a lot of clean up …
Maybe they should try to PRETEND to care
Again, it's about optics. There are A LOT of sex abuse victims from Mater Dei. But for Mater Dei and the Diocese of Orange, it's all about collecting cash.
That's a shame. A very dangerous shame.