The Catholic Diocese of Rockville Center, NY has announced an Independent Reconciliation and Compensation Plan. These plans, administered by Ken Feinberg and funded by the individual dioceses, aim to compensate victims for abuse.  You can read more about them in my four-part series here.
Victims of sexual abuse in the Long Island Catholic diocese of Rockville Center began receiving letters last week. I predicted this back in July. 
Like the other plans in the Archdiocese of New York and the Diocese of Brooklyn, victims receiving letters are in "phase one." These are men and women who have previously come forward to the diocese to say that they were sexually abused.
Rockville Center, however, is a very unique place.
Rockville Center: Used Intimidation to Trick and Silence Victims
A 2003 Suffolk Grand Jury Report found, according to the New York Times:
Roman Catholic Church officials on Long Island [protected] scores of pedophile priests for decades by using sham policies and a bogus "intervention team" to trick and silence victims, cover up crimes, avoid scandals and hold down financial consequences.

The panel said the Diocese of Rockville Centre — the nation's sixth largest, with 1.3 million Catholics in 134 parishes in Nassau and Suffolk Counties — had protected at least 58 abusive priests with aggressive tactics that purported to help victims and their families but that actually used intimidation, claims of confidentiality, hush payments and other means to avoid lawsuits and publicity.

Since 1990, the diocese has maintained a special "uninsured perils fund" to cover sexual abuse claims, asbestos exposure and trampoline accidents, the grand jury found. It said the fund, raised from parish collections, had paid $1.7 million in claims — none for asbestos exposure or trampoline accidents — but still had $11 million in its account last October.

As for dangerous priests, it said they were shuffled from parish to parish and often allowed to minister to children, while recommendations for psychiatric treatments were ignored and a "legal affairs" team, ostensibly set up to help sexual abuse victims, worked to suppress legal claims and husband the money.

"The grand jury concludes that the history of the Diocese of Rockville Centre demonstrates that as an institution they are incapable of properly handling issues relating to the sexual abuse of children by priests," the special grand jury said in a 180-page report based on a nine-month inquiry.
The facts are ugly. You can read the whole report here.
The Players
We have no idea how many priests sexually abused children in the Diocese of Rockville Center. The Grand Jury Report lists many of the men as "Priests A-W." Here is a list of some of the known diocesan priests who are publicly accused of abuse. More details on the public allegations against each of the priests is here.
Peter A. Allen
Daniel Babis
James Bergin
Brian Brinker
John Butler
Michael Carroll
Gerald (Jerry) Chasse
Basil Peter Congro
Damian Lawrence Cooper
Edward D'Andrea
Thomas DeVita
Angelo Ditta
Peter Duvelsdorf
Matthew Fitzgerald
Michael Hands
Kenneth Hasselbach
William Logan
John Mahoney
Joseph McComiskey
Brian McKeon
George J. Michell
Andrew Millar
James C. Miller
Salvatore J. Miraglia
John D. Mott
Joseph T. Mundy
Kenneth T. Nee
Louis I. Newman
Frank J. Parisi
Alan J. Placa
Charles A. Ribaudo
Brendan Riordan
Robert Saccacio
Thomas G. Saloy
Richard Schaefer
Alfred Soave
Raymond Stegmann
Gerald Twomey
Nicholas Unterstein
Eugene Vollmer
James C. Williams
Gregory Yacyshyn
Alan J. Placa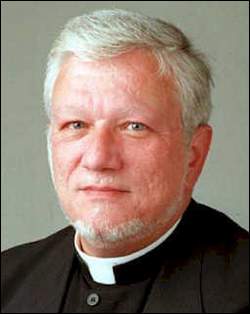 By far the most interesting name on the list is Placa's. A close friend of Rudy Giuliani's, Placa has been accused of molesting teens. He is currently employed by Giuliani's consulting firm.
Although Placa was "cleared" by Rome, Placa's accusers have never been able to use the US courts to seek civil justice or to gain access to Placa's secret files. Placa's Vatican trial was secret.
This is Placa's alleged victims' chance to demand accountability. Although victims will not gain access to the files in Placa's case, the Diocese of Rockville Center is going to have to "put its money where its mouth is," so to speak.
What's up in NY and Brooklyn?
I don't know. If I hear anything, I will post it here.