A federal bankruptcy judge has set an August 3 deadline for victims of child sexual abuse in the Archdiocese of Minneapolis/St. Paul.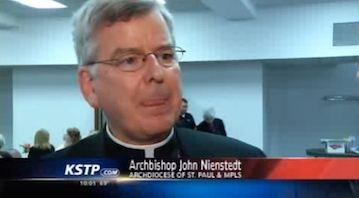 The deadline, called a BAR DATE, is the final day and men and women abused as children can file claims against the Archdiocese to expose their abuser and get justice and accountability.
The Archdiocese filed for bankruptcy protection earlier this year, after approximately 140 men and women came forward to file sex abuse and cover-up lawsuits under Minnesota's civil window. The civil window, enacted in 2013, allows victims of child sexual abuse to use the civil courts for justice, no matter when the abuse occurred.
Since the civil window opened, the Archdiocese has been pounded in the media and by victims for covering up child sex abuse. The pounding was well-justified.
From MPR news:
For decades, leaders of the Archdiocese of St. Paul and Minneapolis have been reassigning, excusing and overlooking sexually abusive priests among their ranks. Some received additional retirement benefits. In August, a top church lawyer, shocked at what she saw, brought the story to MPR News. What happened next is still unfolding.
An important note: The Archdiocese bankruptcy and bar date deadline do NOT affect victims of other entities in Minnesota. So, for example: Victims from Shattuck/St. Mary's, other dioceses in Minnesota, religious orders, churches, or other private entities have until May 2016 to come forward.
For more information about the bar date, click here or here.
I am not an attorney and do not have the authority to dispense legal advice. But let me say this: if you are considering filing a claim in the bankruptcy, talk to an attorney who is familiar with the process. Be sure that your rights are protected.