Four more boys accuse farmer of abuse
Predator adopted and fostered boys in CA and HI
Five of his "sons" now say that he molested them
Victims beg social services, public for help and information
Group runs ad begging "If you saw, suspected or suffered abuse, speak up"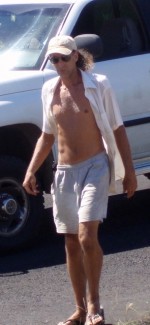 What:
Holding photos of themselves at the age they were abused, victims of child sex abuse will:
— Announce four new child sex abuse and cover up lawsuits against a former Hakalau farmer, and
–Urge social services officials to post and distribute information about Jay Ram, urging social workers to report any information or evidence they may have.
When:
Tuesday, October 22 at 11 am
Where:
Outside of the East Hawaii (Hilo) Office of Child and Family Service, 1045A Kilauea Avenue (at Mohouli) in Hilo
(Social workers with the Office of Child and Family Service worked with some of the boys fostered and/or adopted by Jay Ram)
Who:
Members of SNAP, the Survivors Network of those Abused by Priests, the nation's largest support group for men and women who were sexually abused in religious and institutional settings, including a California woman who is the group's volunteer Western Regional Director
Why:
Four more victims of a former Hakalau farmer are filing lawsuits saying that he sexually abused them after fostering and/or adopting them.
The first victim charged Ram with abuse in March, saying that Ram used him and other boys as "forced child labor" to develop his land and kept them as virtual prisoners on his farm. 

Ram, who is also known as Gary Winnick, is also accused of sexually abusing other boys that he fostered and adopted in California and Hawaii. He is believed to be India.
The lawsuits say that Ram used the boys as forced physical labor and that he also sexually abused them. The victims say that Ram threatened them to keep them silent, deprived them of food and refused to let them to engage in regular social activities with their peers out of fear that the boys would report to authorities. Although Ram has been investigated by the police in the past, the victims say that they were threatened with violence and abuse to keep them quiet. The boys were abused between the ages of 8 and 17 during the mid-to-late 1980s and early 1990s.
Ram was involved in agricultural research with the University of Hawaii, Hilo.
Members of SNAP are reaching out to the social services community in Hilo hoping to finding enough evidence to help law enforcement reopen a criminal investigation against Ram. Many of the boys Ram fostered and adopted were under supervision of social workers in Hilo, who may have felt helpless at the time to do anything about allegations of abuse.
The victims in this case was able to come forward and expose Ram in the civil courts because of a landmark new state law that allows all Hawaii victims of child sexual abuse to come forward and seek justice in the courts, no matter when the abuse occurred.