'Ohana can come from the most unlikely of places.
I went to Hilo, Hawaii last week for a single reason: Expose priest George DeCosta, who has been accused of abuse by two youth and former students at Honolulu's Damien Memorial School. De Costa is now living in Volcano, a town about 20 miles outside of Hilo, where he went after Honolulu Bishop Francis DiLorenzo forced him to retire in 2002.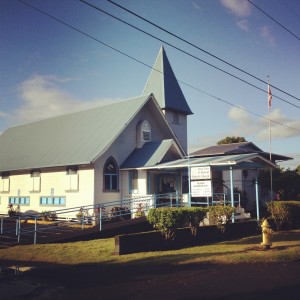 Malia Puka'O Kalani
DeCosta spent 30 years as pastor at St. Mary Gate of Heaven – now Malia Puka'O Kalani – parish. When he was forced out – in the midst of a massive priest shortage – the parish was left without a permanent priest. He was also forced to retire the same year, 2002, that Catholic clergy sex abuse "reforms" forced bishops across the country to remove child-molesting clerics.
Now, DeCosta is the pastor of a religious "community" in Volcano and travels the country with a national group called Music Ministry Alive. Within the past week, DeCosta's photo and bio have been taken off of the website.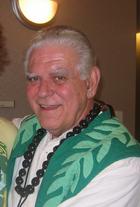 George De Costa from The Music Ministry Alive Website
I went to the small Malia Puka'O Kalani Parish not quite knowing what to expect.
I stood outside for less than 5 minutes before a man came up to me and said, "Are you the whole rally?"
"Yeah," I told him. "It's just me. Hope it's not disappointing"
"We've been waiting to talk to you. Please, come back and sit."
He led me to the back open area patio where five people sat, waiting for me. He pulled a chair up for me, gave me a water, and we started to talk. And talk. And talk. They were all alarmed about the allegations and had known Fr. George for a long time. But they also knew the they had to listen to the victims. They knew about the shame and silence victims suffer and how difficult it can be to come forward in such a small, tight-knit community, where culture and religion are often at odds.
One of them, a community leader as well as a member of the parish, said something I will never forget. We were discussing the clash between much of Hawaiian culture and Catholicism, and he said, "I did not choose to be born who I am. But I choose to be proud of who I am. That's why I am here, talking to you."
When I left, I received hugs and thank yous and a hand-knitted lei. And I am fairly confident that the Malia Puka'O Kalani community will begin to talk openly about child sexual abuse.
John Burnett of the Hawaii Tribune Herald wrote a great piece about the allegations.
Asked if there had ever been similar allegations against him before, DeCosta said: "I believe there was one other one about five years ago, maybe, but nothing ever came about it." He didn't say what the allegation entailed, but said that it "wasn't at Malia."
So I guess we have three allegations. And far too many unanswered questions.
Fortunately, the strength and love of the parishioners will keep them vigilant, until we can all get to the truth.