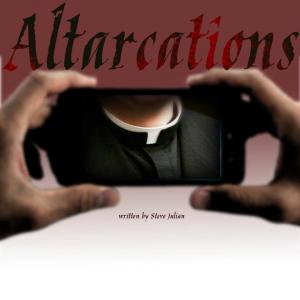 "A bishop. A priest. A woman. A boy."
My friend Steve Julian's play Altarcations will debut in June at the 2012 Hollywood Fringe Festival. I met Steve (whom some of you may recognize as the morning host of KPCC's Morning Edition) after I "outed" one of his former high school teachers as an admitted perpetrator in the New York Times. When he told me about this play, I flipped (in a very good way). I've been lucky enough to see early drafts and talk to him about the progression of the play and the growth of the characters.
It's going to be an amazing production.
Then I found out the play had been accepting into the Hollywood Fringe Festival. I flipped again.
The play runs from June 8 to 14 24 at The Actors Circle Theater. Tickets are a VERY AFFORDABLE $10 to $15. You need to go. And then you need to tell your friends to go. You can buy tickets here.
You can also donate to help offset the cost of the production through the Pasadena Arts Council EMERGE Fiscal Sponsorship Program. We all know that ticket sales alone do very little to help offset the costs of producing a play. An added plus: all donations are tax deductible. When you donate, you will sleep better at night and like yourself more, knowing that you contributed to the growth of live theater in Los Angeles.