Over the weekend, Catholic hymn composer, performer, and youth conference organizer David Haas was dropped by his publisher after the company learned the musician was under investigation by the Archdiocese of St. Paul and Minneapolis for sexual battery and other offenses.
Haas also ran a music camp for teens called Music Ministry Alive, which according to Haas' website, is "an international liturgical music formation effort for high school and college age youth." (Both the Facebook group and the official website for Music Ministry Alive have been removed).
For followers of this blog, Music Ministry Alive (MMA) should ring a bell—and it got my attention immediately when reading about Haas.
Back in 2012, I wrote about how MMA was the music home of credibly accused former Hilo priest George De Costa. I even went to his former parish in Hilo, to talk to Catholics about the lawsuits. Locals knew that DeCosta was a predator, but the former cleric was running his own, non-church affiliated retreat center at the time. Outside of warning people and spreading the news about the lawsuits, there was little else that could be done.
By 2016, DeCosta had been sued for child sexual abuse by at least nine men.
But that didn't stop Haas and MMA from working closely with DeCosta and singing his praises.
In a 2017 essay—reprinted in his 2018 book—Haas describes his yearly trips to Hilo to visit DeCosta and participate in the Big Island Liturgy and Arts Conference.
He says:
I love my annual visits to Hawaii, as each one calls to mind that first conference experience, this song, and the deepening of such important friendships. The song is dedicated to Fr. George; his passionate preaching, teaching, and witness of ministry is like the fire of the volcano—always stirring, never tiring, always convicted. I love every opportunity I have to be there. When I am not able to do so, I have to resort to watching the episodes of "Hawaii-Five-O" to keep me connected. Mahalo! (11.22.17)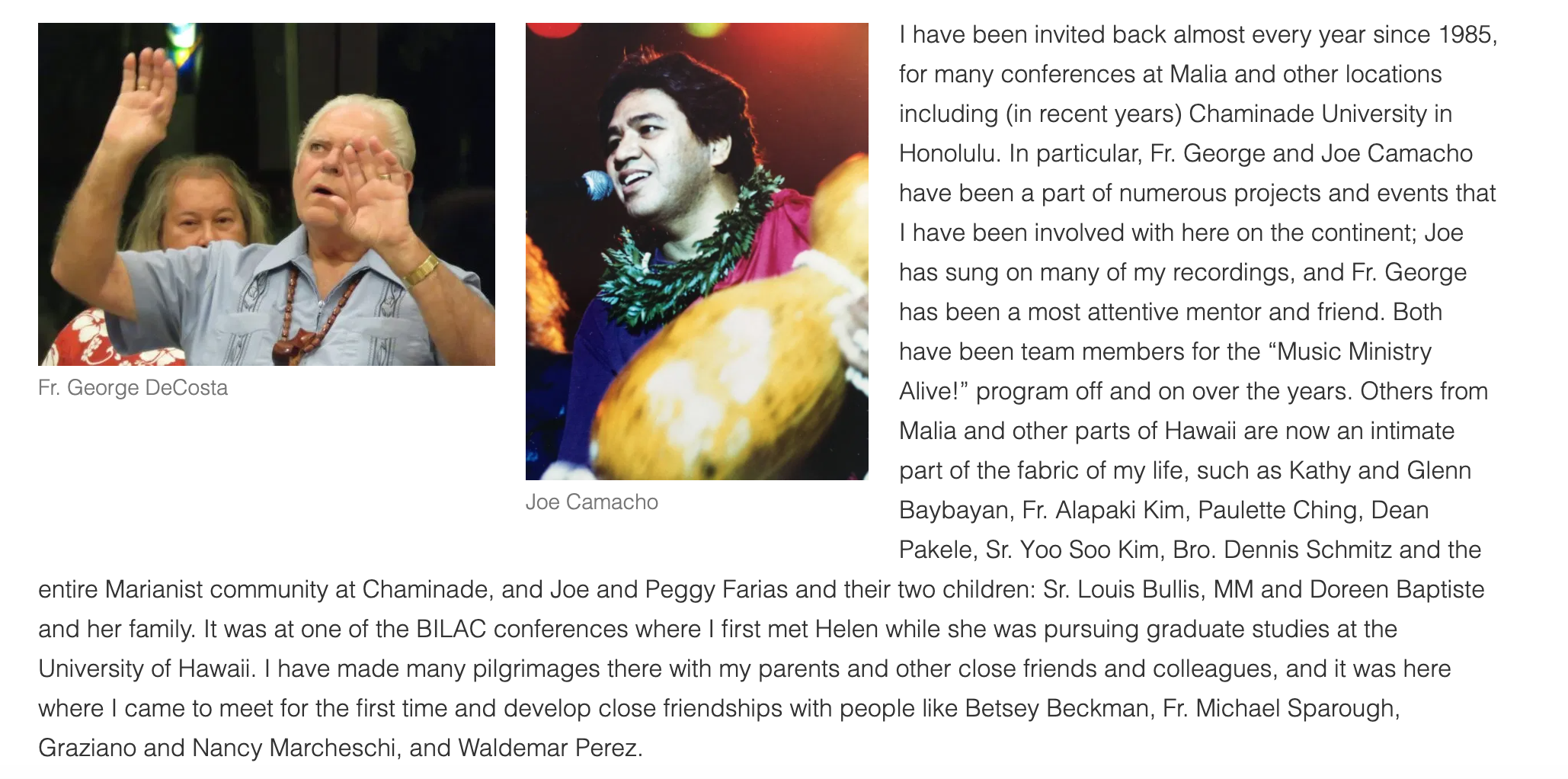 This is YEARS after DeCosta was the subject of at least nine sex abuse lawsuits.
MMA and Haas knew in 2012 about the allegations against DeCosta and the fact that he was removed from the priesthood. How do I know this? I TOLD THEM.
I wrote MMA a letter informing them of allegations and lawsuits, as well as asking that MMA officials inform all past participants and that DeCosta be banned from all future events.
Obviously, they didn't listen and didn't care.
What does this tell us?
The multiple allegations against Haas should surprise no one. In fact, I anticipate that as the "investigation" against Haas continues, we will learn that the women he preyed on were silenced for years. Why should Haas treat himself any differently than he treated De Costa?
This is a story that is all too familiar.
Did Haas come to your community?
Haas traveled extensively, performing and "mentoring" adults and youth. The following list was taken from his website.
If you or someone you know was potentially victimized by Haas, it's safe to come forward and report.
ARIZONA
CALIFORNIA
St. Polycarp, Stanton, CA
Our Lady of Lourdes Church, Northridge, CA
St. John the Baptist Church, Folsom
COLORADO
Immaculate Conception Church, Lafayette, CO
FLORIDA
St. Jude the Apostle Cathedral, St. Petersburg, FL
Espiritu Santo Church, Safety Harbor, FL
HAWAII
St. Rita's Church, Nanakuli/Oahu, HI
Mystical Rose Oratory/Chaminade University, Honolulu, HI
ILLINOIS
St. Anne Catholic Community, Barrington, IL
St. Edna Church, Arlington Heights, IL
St. Linus Church, Oaklawn, IL
St. Nicholas Church, Evanston, IL
IOWA
St. Pius Parish, Urbandale, IA
Our Lady's Immaculate Heart Church, Ankeny, IA
St. Joseph Church, Jefferson, IA
KENTUCKY
St. James Church, Elizabethtown, KY
MARYLAND
St. Ignatius of Loyola, Ijamsville, MD
St. Rose of Lima Church, Gaithersburg, MD
MASSACHUSETTS
The Paulist Center, Boston, MA
St. Ignatius of Loyola Church/Boston College
MICHIGAN
Blessed Trinity Church, Frankenmuth, MI
St. Francis de Sales Church, Bridgeport, MI
MINNESOTA
St. Cecelia's Church, St. Paul, MN
St. Thomas the Apostle Church, Minneapolis, MN
The Spirit of St. Stephen's Catholic Community, Minneapolis, MN
Mayflower United Church of Christ, Minneapolis, MN
St. Thomas Aquinas Church, St. Paul Park, MN
St. Katherine Drexel Church, Ramsey, MN
Nativity Episcopal Church, Burnsville, MN
St. Thomas Becket Church, Eagan, MN
St. Therese Church, Deephaven, MN
St. Ambrose of Woodbury Church, Woodbury, MN
Nativity Lutheran Church, Roseville/St. Anthony, MN
MISSOURI
Most Sacred Heart Church, Eureka,
St. Francis Xavier College Church/St. Louis University, St. Louis, MO
Nativity of Mary Church, Independence, MO
Sts. Joachim and Ann Church, St. Charles, MO
NEW HAMPSHIRE
Corpus Christi Church, Portsmouth, NH
NEW JERSEY
St. Anselm Church, Tinton Falls, NJ
Sts. Peter and Paul Church, Hoboken, NJ
NEW MEXICO
Our Lady of the Most Holy Rosary, Albuquerque, NM
NEW YORK
St. Francis of Assisi Church, New York
St. Pius X Church, Rochester, NY
Newman Center for Rochester Institute of Technology, Rochester, NY
Transfiguration Church, Pittsford, NY
NEVADA
St. Anthony of Padua Church, Las Vegas, NV
Guardian Angel Cathedral, Las Vegas, NV
NORTH CAROLINA
Christ Lutheran Church, Charlotte, NC
OHIO
Corpus Christi University Church, Toledo, OH
Blessed Sacrament Church, Warren, OH
St. Charles Borromeo Church, Kettering, OH
OKLAHOMA
St. John Nepomuk Church, Yukon, OK
OREGON
Christ the Teacher Chapel/University of Portland, Portland, OR
PENNSYLVANIA
St. Kilian Church, Cranberry Township, PA
St. Benedict the Abbot Church, McMurray, PA
Holy Cross Church, Fairview, PA
RHODE ISLAND
Christ the King Church, Kingston, RI
TEXAS
Most Blessed Sacrament Church, Arlington, TX
St. Clare of Assisi Church, Houston, TX
Chapel of the Incarnate Word/University of the Incarnate Word, San Antonio, TX
VIRGINIA
Immaculate Conception Parish, Hampton, VA
WASHNGTON DC
St. Teresa of Avila Church, Anacostia, DC
Holy Trinity Church, Georgetown
WASHINGTON STATE
St. Patricks's Church, Seattle, WA
WEST VIRGINIA
All Saints Church, Bridgeport, WV
St. Michael Church, Wheeling, WV
CANADA
St. John's Anglican Church, West Toronto, ON
Sisters of St. Joseph of Carondelet/St. Paul Province; St. Paul, MN
Christian Brothers of the Midwest; Burr Ridge, IL
School Sisters of Notre Dame/Central Pacific Province
The Servants of Jesus; Saginaw, MI
Sisters of Charity of Seton Hill; Greensburg, PA
Sisters of Providence of St. Mary-of-the-Woods
Sisters, Servants of the Immaculate Heart of Mary; Monroe, MI
Conventual Franciscan Friars / Province of Our Lady of Consolation
The Crosier Fathers & Brothers; Onamia, MN
Maryknoll Sisters; Ossining, NY
Marianist Brothers & Priests/Chaminade Unversity; Honolulu, HI
Adrian Dominican Sisters; Adrian, MI
Sisters of the Presentation of the Blessed Virgin Mary; Aberdeen, SD
Sisters of the Order of St. Benedict; St. Joseph, MN
Grand Rapids Dominican Sisters; Grand Rapids, MI
Capuchin Franciscans Province of St. Joseph
St. John's Abbey (Benedictine); Collegeville, MN
Poor Handmaids of Jesus Christ; Donaldson, IN
Congregation of the Humility of Mary; Davenport, IA
Carmelite Monastery, Traverse City, MI
Conventual Franciscans / Holy Cross Retreat Center, Mesilla Park, NM
Franciscan Sisters, Wheaton, IL
Camaldolese Benedictine Monks, Big Sur, CA
Franciscan Sisters, Little Falls, MN
Franciscan Sisters, Dubuque, IA