Yesterday's LA Times told the story of Edward Courtney, former Irish Christian Brother who is accused of molesting upwards of 50 kids. He's living "under the radar" in Hawaii.
The bigger story is that EVERY cleric in Hawaii who has been accused of abuse (including former Bishop Joseph Ferrario) lives or has lived under the radar.
Why? Because unlike more than 30 other dioceses across the US, the Diocese of Honolulu and Bishop Larry Silva (pictured above) aren't telling us who the perpetrators are.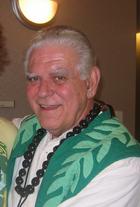 These are men like:
And what about the guys who are living "under the radar?" What about the 60 lawsuits? Who's in there? What about the predators that the diocese knows about, but no victims have filed cases?
If a similar list from Seattle can unearth one guy living in hiding in Hawaii, how many men can a Diocese of Hawaii list expose?
Don't you think that the public deserves to know?