or … The proof is in the paper, but only if you can find it.
And the monks at St. John's want to make sure you never find it.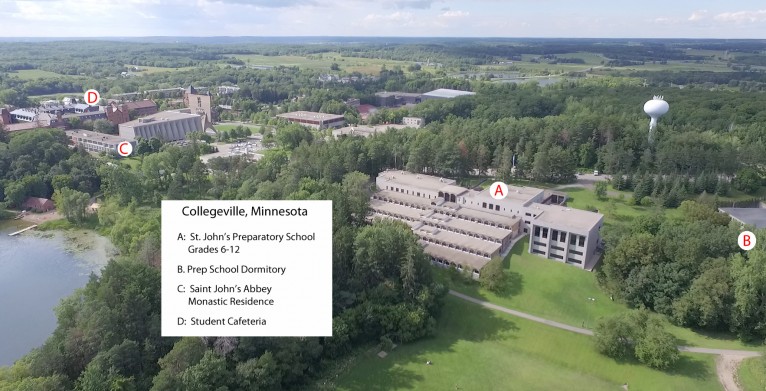 Today, Minnesota Public Radio announced that St. John's Abbey in Collegeville (MN) is releasing the secret sex abuse files of 18 predatory monks in a large document dump. The monks were forced to release the files to victims as a result of a 2015 lawsuit brought by a victim from the St. John's Prep School. In theory, it was supposed to be up to the victim when the documents were made public.
Some of the 18 predators whose files are slated to be released live in the St. John's Monastic Residence (location C above – right smack between the Prep School dorm and cafeteria, in case you were wondering if the offending monks had access to students on campus.). The prep school has students from the 6th to 12th grades. High schoolers can live on campus.
The victim and his attorneys in this case have been releasing the files one or two at a time. The right way …
They carefully examined the files, first making sure that victims and witnesses' names were redacted.
Then, they put the files in order, made them searchable online, highlighted important information, called out people who covered up abuse, and worked closely with advocates across the country who could use the information in these files to help other victims. (Documents such as this one that showed that diocese lay review boards are usually denied access to a priest's secret personnel file when making determinations about a priest's potentially abusive past)
The slow release also ensures that documents receive the attention they deserve (as in my own case.)
Anyone familiar with politics knows that this kind of careful, thoughtful, and victim-centered document release is a disaster for organizations like St. John's, who has a decades-long history of covering up abuse. It's called the "drip, drip, drip …" and can be devastating to politicians and political causes, as well as organizations that enable and abet child sex abuse.
Hence today's announcement of the document dump. It works in politics, so it's no surprise that the monks are giving it a shot.
There is nothing "transparent" or victim-friendly about the large-scale dumping of these kinds of documents. The monks want everyone in a panic—victims, advocates, journalists—so that information is missed, cover-up remains undetected, and wrongdoers are "forgotten" so that they can continue to live happily on the St. John's campus.
Which only makes one wonder: what else do the monks have to hide?