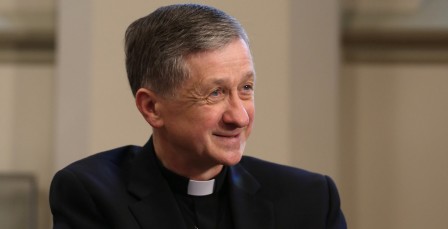 Chicago Archbishop Blase Cupich has a lot of explaining to do about why he has allowed a priest—who has admitted to sexually abusing a child—to remain a priest and work with kids.
In fact, in light of a Chicago Tribune article today, I think Cupich should step down for his blatant disregard for zero tolerance when it comes to sexual abuse.
Priests who have EVER sexually abused a child should NOT be in ministry. Especially if that ministry involves youth. Period.
A scenario:
You have teenager who has been kicked out of school, struggles at home, and is dabbling with drugs and violence. English is not your first language. Maybe your immigration status is less than ideal. You are working two jobs and have younger children. A local priest reaches out to you and asks if he can help your son. 
You say yes. 
Why? Because church officials have promised Zero Tolerance when it comes to sexual abuse. You trust them. You believe that Zero Tolerance means that this priest has NEVER abused a child.
Soon your child joins the priest's marimba band and travels with the priest. You invite the priest into your home. He babysits your younger children.
But then you learn that this priest HAS sexually abused a child. But because he did it before he became a priest, Catholic Church officials kept it quiet.
This priest committed a heinous crime against a child. But church officials didn't tell you. They won't tell you if he did it again. 
You find out that he was sent to a church-run facility for sex-offending clerics.
Church officials minimize the abuse, calling it a "sin" that can be "forgiven," instead of a crime that should have been punished.
And the church isn't even the person who tells you about the priest's crimes … you learn about the priest's past when someone tells you about a Chicago Tribune story. You learn that the priest's victim has been trying to get accountability for almost 20 years.
You look at your son. When you ask him about the priest, he won't tell you anything … because he's a teenager.
What do you do?
This is not a hypothetical. This is happening all over Los Angeles and Chicago today, after this story about Claretian priest Bruce Wellems appeared on the Chicago Tribune website. If you can't read it, go here.
The church says that Wellems "good works" should erase his crimes. But that's not ZERO TOLERANCE. That's minimization and cover-up.
Would you want your child to have a teacher who had sexually abused a child before she entered the profession? Would you want Josh Duggar to babysit your daughter?
And, for anyone who says, "But Wellems is sorry." This is not about "forgiveness." I don't care if people have forgiven Wellems. I don't want people who have sexually abused children working with my child or ANY child.
You can forgive the embezzler, but you don't put him in charge of your finances. You can forgive the murderer, but you don't give him your gun when he's angry. You can forgive the bear who mauled your dog, but you don't make the bear your indoor pet.
Blase Cupich, what do you have to say?