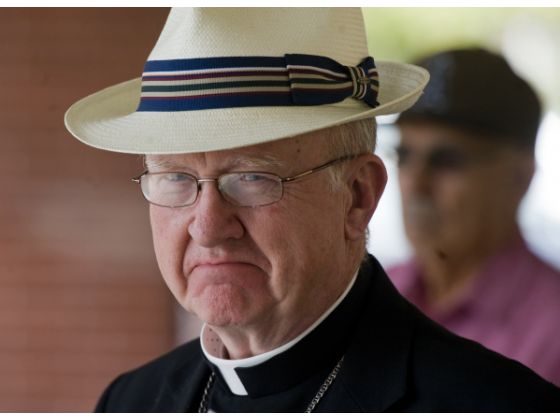 A priest who worked for six years at Orange's St. Joseph Hospital has been accused of "improper conduct" in numerous assignments. The conduct was so bad, in fact, that he was "dismissed" from his home diocese and the US Conference of Catholic Bishops issued a warning to dioceses nationwide.
What did Orange Bishop Kevin Vann do with this warning? Not much.
Same with San Bernardino's Bishop Gerald Barnes.
So here's the scoop:
Fr. Peter Balili worked at Orange's St. Joseph's hospital as a part of his studies in "pastoral ministry." The priest also had assignments in the San Bernardino and San Francisco dioceses.
But in 2014, the Diocese of Belleville, IL, DISMISSED him from his duties after they learned of (what they vaguely describe as) "improper conduct." They also believe that he engaged in this conduct in his other assignments, including California.
How did I find out about this? The Diocese of Cleveland actually does as they promise and is transparent about these warnings.
If you know about Balili or his conduct while in California, let me know. If I am wrong about Vann's reaction, let me know that, too.
Here is the text of the USCCB's warning. You can read the whole PDF here (it's on page 5 of the pdf):
WARNINGS: USCCB- RE: FR. PETER BALILI

The Diocese of Belleville has advised the Conference of its concerns regarding Fr. Peter Balili a priest of the Diocese of Tagbilaran (Philippines) who had previously served as a fidei donum missionary in the Diocese of Belleville. The Diocese of Belleville informs the Conference that it has dismissed Fr. Balili from this position, and has requested his bishop to direct Fr. Balili to return to his home diocese, and that it took this action based on instances of what the Diocese of Belleville viewed as inappropriate conduct regarding certain of his parishioners. The Diocese of Belleville also indicates that it has learned of similar inappropriate conduct in Fr. Balili's previous assignments. Those needing further information should contact Fr. Von C. Deeke, liaison for International Priests of the Diocese of Belleville at (618) 277-8181.
There are other priests listed as well. You may want to take a gander and ask a few questions.