When California Governor Jerry Brown vetoed SB 131 —an extension to California's 2003 civil window that would have allowed victims of child sex abuse to come forward, no matter when they were abused—he cited an age-old (and VERY STALE) argument that we hear often from Catholic bishops: "window laws are unfair."
Tell that to the brave sons of Jay Ram. I believe they will disagree.
When Hawaii passed a civil window in 2012, dozens of children in local Catholic schools and parishes started to come forward. But so did other victims: child victims from the prestigious Kamehameha school who were abused by a school psychiatrist and, most notably, the fostered and adopted sons of Jay Ram.
Vice News follows the story of Jay Ram in their 29-minute documentary LOVE SERVE SURRENDER. In the film, they follow Jay from his time as a hippy guru in Northern California, to a farmer on the Big Island, to a man on the run in Saipan and Florida. Through it all, he fostered and adopted boys and sexually abused them.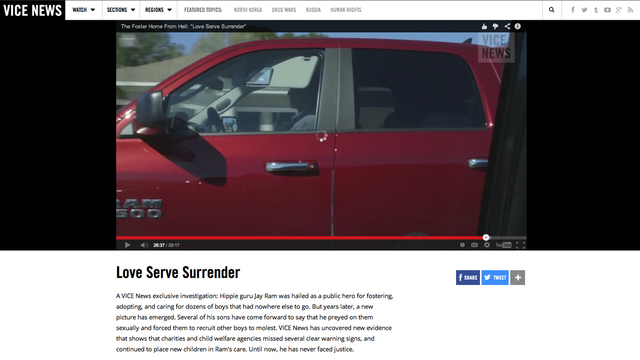 Now, those boys are coming forward for justice.  And in the process, they are shining a light on a very broken and corrupt system where state social workers and other groups (like Catholic Charities Hawaii) knew there were complaints against Ram, but continued to place boys in his care.
Yet the bishops cry "unfair" … and in the meantime, allow men like Jay Ram to abuse dozens more children across the globe. Pretty shameful, if you ask me.
You can watch the full documentary here: