Current priest, Diocese of Honolulu accused of child sex crimes 
Two ex-Damien students expose him in abuse lawsuit
Bishop Silva has known about allegations since last August
Despite 'zero tolerance," bishop refuses to remove predator
Bishop Silva must oust priest, warn parishioners, group says
Predator is "ticking time bomb" for abuse, they claim
What:
Holding signs and/or photos of themselves when they were abused, child sex abuse victims and their supporters will announce that a long-time Catholic priest and the Diocese of Honolulu have been named in a sex abuse and cover-up lawsuit. The lawsuit says that Fr. George DeCosta:
Sexually abused two boys while at Damien Memorial School, and
Continues to live and act as a priest on the Big Island.
They will also ask Honolulu Bishop Clarence Silva to:
Explain why DeCosta still lives and acts as a priest,
Tell why he has covered up accusations against DeCosta,
Obey directives from US Cardinals demanding "zero tolerance,"
Immediately remove DeCosta's priestly faculties, and
Personally visit every parish, school and facility where he worked and reach out to others he may have hurt.
Where: Outside of the Cathedral of Our Lady of Peace, 1184 Bishop Street in Honolulu
When: Wednesday, March 6 at 11:30 am
Who: Members and supporters of SNAP, the Survivors Network of those Abused by Priests, the nation's largest support group for men and women sexually abused as children in religious and institutional organizations, including a California woman who is the group's Western Regional Director
Why: Last week, two Oahu men filed a child sex abuse and cover-up lawsuit against a Big Island priest and the Diocese of Honolulu.
Allegations against Fr. George DeCosta first became known in August, when the two victims filed legal claims in the Irish Christian Brothers bankruptcy. The Irish Christian Brothers is the religious organization that owns Damien Memorial School. They declared bankruptcy in 2011 when more than 250 victims of child sex abuse came forward and demanded justice. Ten predators have been exposed at Damien thus far.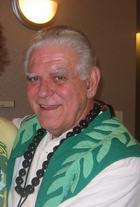 Just yesterday, Chicago Cardinal Francis George said that zero tolerance for sex abuse must be "the universal law of the church." SNAP believes that allowing a twice-accused predator to live and act as a priest is a "ticking time bomb" for abuse.
Despite the legal claims–and the fact that DeCosta admitted to another allegation—Bishop Clarence Silva allows DeCosta to live and act as a priest at a retreat center on the Big Island. DeCosta retired from being a pastor in 2002, the year that the child sex abuse scandal broke in the United States. He is still a priest, says Mass, works at a retreat center, and has complete access to Catholic children.
Fr. DeCosta is the pastor of the Hale Lokahi community in Hilo. Until recently, he worked with Music Ministry Alive, a MN-based group that trains young people to be liturgical music leaders. He is also the founder of the Big Island Learning and Arts Community (BILAC).
According to the lawsuits, both victims were young students at Damien in the late 1960s, when DeCosta worked as a religion teacher and director of the Catholic Youth Organization (CYO) at the school. One of the victims charges that DeCosta sexually molested him at an Oahu CYO camp.
At the time of the alleged abuse, DeCosta was also assigned to St. Theresa's parish in Honolulu, a parish with a school.
In 1973, DeCosta was transferred to St. Mary Gate of Heaven—now Malia Puka'O Kalani—Parish in Hilo. He stayed there until 2002, when Honolulu Bishop Francis DiLorenzo mysteriously forced him to retire at age 65. That was the year that the clergy sex abuse and cover up crisis attracted national headlines. Bishops pledged then to be "open" about child sex cases and oust predators from ministry.
SNAP believes that there may be more victims in Hilo and Honolulu and that church officials must do more to reach out to survivors. They want Honolulu Bishop Clarence Silva to adhere to his promises of safety and transparency and forbid DeCosta from acting as a priest. They also want him to explain why nothing was done to remove Fr. DeCosta when allegations first arose.
The victims asked SNAP to speak out on their behalf, to make sure that what happened to them does not happen to other children.
The victims were able to come forward because of Hawaii's civil window law. The law, passed last year, gives victims of child sexual abuse a chance to seek justice in the courts no matter when they were abused.
More than a dozen victims have come forward to file lawsuits under the new law, including a California man who says he was molested by former Bishop Joseph Ferrario and Fr. Michael Henry , and a former Damien student who charges that a known predator priest was "dumped" at Damien Memorial to avoid allegations of abuse.