From today's Stockton Record: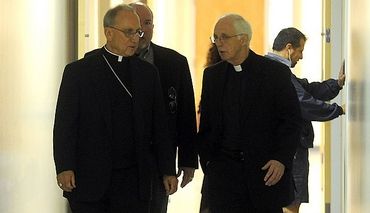 From left, Bishop Stephen Blaire, consultant Michael Heenan and Monsignor Richard J. Ryan walk down a hallway inside the San Joaquin County Courthouse on Tuesday morning, when jurors in Michael Kelly's trial were sent home for the day. (emphasis mine)
Consultant?
As a PR person myself, I don't fault Heenan for doing his job. But trial watchers say that he has been in court every day. That gets pretty spendy. Especially at an hourly rate.
Between lawyers' and public relations consultants' fees to cover the tracks of Fr. Michael Kelly, the priest found liable for abuse—and who then absconded from the country—the Stockton diocese should also be held to account for misleading parishioners about how their hard-earned contributions are spent.
SNAP volunteers came to support the victim at the trial because it's the right and good thing to do. But from the treatment they've received in the comments of various press stories, and the hammering they are getting from the Bishops, one would think THEY were paying for the high-priced consultants.
Yeah, that's a disconnect.