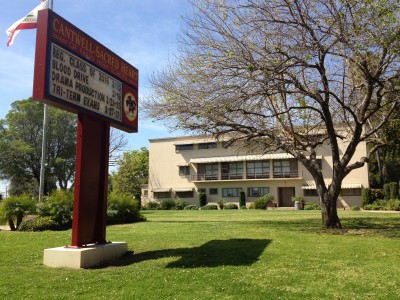 Sometimes, the most profound statements at a press conference come from the reporters, not us.
Today, my friend and colleague Ken Smolka and I were in front of Cantwell Sacred Heart of Mary High School in Montebello, California. We were there because the Irish Chrisitian Brothers, the religious order that ran Cantwell High School, declared bankruptcy when more than 50 victims of child sex abuse in Washington State and Canada came forward to file civil sex abuse and cover-up suits. Order officials sought bankruptcy protection to avoid embarrassing public civil trials. The Christian Brothers are the 10th diocese or religious order to take this (less than pastoral) path.
The Brothers ran Cantwell High School until 1990, when Cardinal Roger Mahony kicked them out and put the Jesuits in their place. No real explanation was given.
But I have an idea: in the six yearbooks I have reviewed, we have found four known perpetrators who worked at the school (three of them were there at the same time). Maybe Mahony realized that even he couldn't keep a lid on the Christian Brothers much longer.
There was Thomas Cuthbert Ford, who was convicted in 2000 of violently beating abandoned children between 1956 and 1959 at the Mt. Cashel Orphanage in Newfoundland. He had been hiding in the United States at schools like Damien Memorial High in Honolulu, Cantwell and Bergen Catholic (Bergen, NJ) until he was finally extradicted to Canada. Ford was the 11th Irish Christian Brother to be sentenced for crimes at Mt. Cashel.  He was principal of Cantwell in 1980.
We also found Br. Daniel Peter Ryan, a former vice principal, Br. Jerome Heustis, a former coach and teacher and Br. Robert Satterthwaite, a former teacher. All of these guys are the subject of numerous sex abuse and cover-up lawsuits. Satterthwaite was even named (although misidentified) in Mahony's infamous "Report to the People of God."
We told the reporter the reason we were there: victims from Cantwell only have until August 1, 2012 to come forward, expose their abusers, and seek justice (including secret church documents) in the courts.
We also told her that victims' coming forward is important for more than healing, but also for protecting children and punishing wrong doers. Although some of the men who abused children are dead, many are not. Many of the men who covered up for the predators are still alive. Every official in the Christian Brothers organization is still sitting on important secret church documents that will expose more criminals and outline the scope and scale of abuse. These documents will only be released if victims come forward. It is VITALLY important that every victim at Cantwell come forward before the deadline, we said.
The Christian Brothers still run schools across the United States, and they are still covering up for abusers.
She looked at us for a moment in silence. Then she said, "This is huge. Why hasn't the story gotten more publicity?"
Exactly.
Why isn't the new LA Archbishop standing outside of the school? (He gets WAY better press than I do) Where is the president of the Irish Christian Brothers? Shouldn't he be out in front of every single school where a known abuser worked? Nah. That would be too … pastoral.
And the last thing they want to do is let victims know they have rights.