Newly released documents show how St. John's Prep in Collegeville, MN is in direct violation of Title IX of the Education Amendments of 1972 and created a hostile environment where students can reasonably believe they are risk of sexual assault.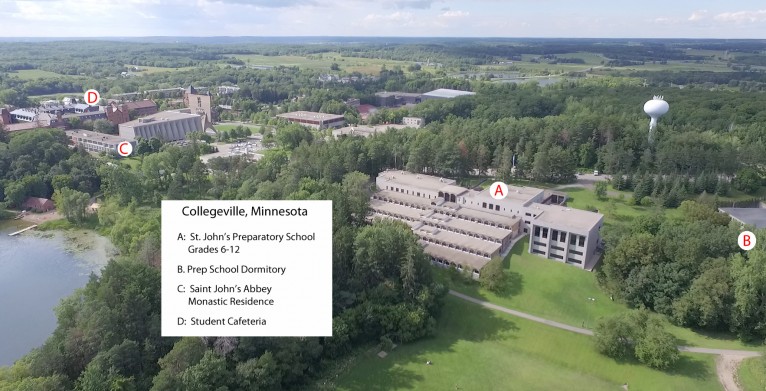 At least 10 sex-offending monks—who have only been publicly exposed due to child sex abuse civil lawsuits and criminal complaints— live at the monastic residence (noted in the photo of the school above) mere yards from the dorms of St. John's Prep. Students must pass the home where the offenders live to go to the cafeteria or attend church services.
Because of the real risk these monks pose, students are unable to study, work, or perform in sport activities because out of genuine and real fear of sexual assault.
According to Campus Safety Magazine:
Sexual violence is viewed under the law as an extreme form of hostile environment/sexual harassment and must be addressed. When an institution "knows or reasonably should know" about a hostile environment, they are required "to take immediate action to eliminate the harassment, prevent its recurrence and address its effects."
We aren't talking about frat parties. We are talking about men who engaged in child sex trafficking in South East Asia, men who evaded charges of child sex abuse, men who took numerous children to cabins in order to sexually abuse them, men who sexually abused the high school and college students they counseled, and men who abused altar boys in their care.
If that isn't a Title IX violation, I don't know what is.
Tuition at St. John's Prep for a boarding student: $35,945
Tuition at St. John's University: $40,846
Sex offenders are free.
And remember: these are the same monks who may have engaged in Medicaid fraud, bilking the taxpayers of Missouri out of tens of thousands of dollars.
Oh … and in case you were wondering. I don't just blog. I report. Fortunately, every state has Medicaid fraud and Title IX hotlines. Good thing I have a calling plan with unlimited minutes.