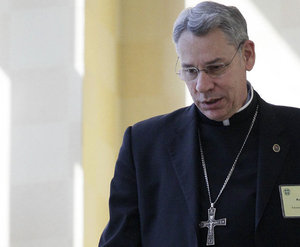 It's the the papal version of the back-handed compliment:
In a one-sentence throw-away line in yesterday's Vatican press bulletin, Pope Francis accepted the resignation of Kansas City-St. Joseph Bishop Robert Finn.
The Holy Father Francis has accepted the resignation from the pastoral government of the diocese of St. Joseph-Kansas City, Mo. (U.S.A.) presented by His Excellency Msgr. Robert W. Finn.
In case you didn't know: in 2012, Finn was convicted on one count of failure to report child sexual abuse. He covered up for Shawn Ratigan, a Missouri priest who was sentenced to 50 years in prison for producing child pornography.
From National Catholic Reporter:
Because of that incident, Finn served a two-year suspended sentence in Jackson County, Mo., and struck a deal later that year with a Clay County, Mo., judge to avoid a similar charge by entering a diversion compliance agreement that included regular meetings with the county prosecutor for five years.
As I have noted on this blog before, if Finn were to apply for a job at his own diocese, he would not pass the background check.
Removing Finn was low-hanging fruit for Pope Francis, who has called on churches to enforce "zero tolerance" (even though Francis recently appointed a Chilean bishop who is accused of covering up for child sex abuse crimes). It would have been easy for Francis to deliver a strong message and fire Finn. It would have been very easy for the Vatican to make a powerful announcement stating that Finn's behavior was unacceptable and will not be tolerated in a pastoral Christian environment.
In fact, it would have been amazing if Francis or a high ranking Vatican official came to Kansas City-St. Joseph to address the hurt and pain that Catholics there are suffering.
But no. Francis let Finn quit and "save face."
And Catholics in Kansas City-St. Joseph are still left with questions. And pain.
So, yes, I am elated that a convicted bishop is no longer leading a Catholic diocese. But since Finn's "transition" was treated like an afterthought, I can't help but wonder how much else is treated like an afterthought.