Yesterday, attorneys for victims of child sexual abuse in Minnesota and Missouri released a recent sworn deposition of St. Louis Archbishop Robert Carlson. In the deposition, which can be read here and viewed in excerpts below, Carlson states 193 times that he "does not remember" various incidents regarding the sexual abuse of children.

But one particular statement stuck out.
From the Huffington Post:
(Attorney for victims Jeff) Anderson went on to ask Carlson whether he knew in 1984, when he was an auxiliary bishop in the Archdiocese of St. Paul and Minneapolis, that it was crime for a priest to engage in sex with a child.

"I'm not sure if I did or didn't," Carlson said.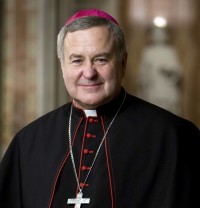 So I did a little research into priests in Minnesota who were arrested for sexual abuse in the 1980s. As auxillary bishop of the archdiocese, Carlson would have intimate knowledge of the activities in his own and neighboring dioceses.
I found some interesting material:
1979 – St. Cloud priest Fr. Raoul Gauthier is charged with sexual assault on a 37-year-old developmentally disabled man. He fled the country before he could be tried.
1980 – Duluth Diocese priest Dennis Puhl is convicted of 4th degree sexual assault of a 15-year-old boy. He was sentenced to 21 months, but a judge stayed the conviction. Puhl instead served five years probation on the condition he receive treatment in a church-run facility.
1982 – Fr. Gilbert Gustafson of the St. Paul and Minneapolis Archdiocese pleads guilty to the sexual abuse of a boy. He serves 4 1/2 months in jail. Although convicted, he was not removed from the ministry until 2002, but still can be found doing leadership training for nuns in the state.
1984 – In the Crookson diocese in the northern part of the state, Fr. Richard Boyd is convicted of the possession of child pornography. He is allowed to remain a priest until 2003. He claims that "innuendo and gossip" about his conviction have made it hard for him to be an effective minister.
1987 – Fr. Michael J. Stevens of the St. Paul and Minneapolis Archdiocese pleads guilty to "sexual misconduct with a minor." Like Gustafson, Stevens is allowed to remain in the priesthood until 2002.
1989 – Fr. William Nicholas Garding of the St. Cloud Diocese pleads guilty to third-degree sexual assault of a minor and is given a stayed sentence of ten years. He eventually serves six months in jail
Carlson knew full well that child sex abuse was a crime. He simply didn't care.