Less than 24 hours after Stockton Bishop Stephen Blaire announced his intentions to file bankruptcy on Wednesday, the Calaveras County Grand Jury has handed down a criminal indictment of Fr. Michael Kelly.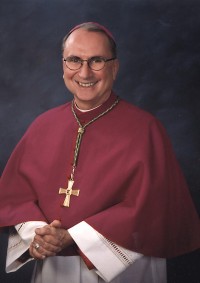 According to the Lodi News/Modesto Bee, "the criminal grand jury indicted Kelly on three counts of lewd and lascivious conduct on a child and one count of oral copulation with a child."
During five years of civil litigation—which unearthed enough evidence to convince a civil jury that Kelly most likely had abused Travis Trotter—Bishop Blaire allowed Kelly to remain in ministry, working with children and administering sacraments (holding the keys to parishioners' salvation). After the jury verdict and Kelly fled to Ireland, Blaire said he "urged Kelly to return" but continued to defend the priest's innocence. On the eve of a criminal indictment, Blaire declares bankruptcy.
What more do you need to know about Stockton's child protection policies?