If you read nothing else this week, check out OC Weekly's Father John Lenihan and Me, Gustavo Arellano's introspective piece on the recent release of serial molester Fr. John Lenihan's secret personnel file.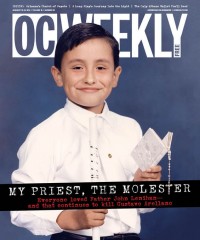 Gustavo, who is usually not the poster child for humility, sums up the past few years of the news coverage of the child sex abuse scandal in the Diocese of Orange perfectly:
Because, as I look back at our decade of coverage, I see it's one giant failure. Although Orange County may have a new bishop in Vann, he has yet to exile any of the men who let Lenihan roam all those years. Lenihan, meanwhile, never served any prison time for his crimes and is now happily married, living in South County and still beloved by his former parishioners. The Diocese of Orange grows, more money rushes in—and sex-abuse survivors are told the past is the past and get out of the way of progress.
The reason that this passage affects me so deeply is that the failure is mine, too. After more than 10 years fighting in my own backyard, I, somehow, began to believe what they—church flaks, faithful Catholics and other apologists—were telling me:
"Bishop Vann is new," they said. "He's had no role in the scandal here in Orange. Do not judge him until you have reason."
"You got your settlement. You got your documents. It's time for you to move on and forgive."
"Mater Dei is different, Joelle. I send my children there. Those are old battles that you (mostly) won."
Then it happened: I got tired. The news got less and less attention … until it got no attention at all. Not even from me.
I let the malaise seep in … until I read Gustavo's piece, and remembered why I started fighting in the first place.
Why? Because of men like Msgr. John Urell, who prances around south Orange County with the very poorly placed respect and admiration of local Catholics. We must never forget that he LIED to parents when their kids came forward to report abuse. We must never forget that he told rape victims (who were CHILDREN) that they were "besmirching" the "good names" of serial predators like Michael Harris and Al Ramos. We must never forget that he covered up for men he KNEW were sexually abusing kids.
And when called to account, Urell ran away. He's a coward, he lied, and he covered up for criminals. Had he kicked a dog in public, everyone would have been outraged. But no one at St. Timothy's seems to care about the kids he metaphorically kicked over and over again.
We must never forget that vicious, vitriolic victim-haters like Lawrence Baird get to keep their cushy gigs in Newport Beach.
We must never forget the millions Vann pays to lawyer Pete Callahan, whose legal career has been devoted to grinding down those among us who are the most hurt, most vulnerable, and in most need of help.
We must never forget Michael Harris, John Lenihan, Al Ramos, Thomas Hodgman, Michael Pecharich and the other men who were never punished for what they did to Orange County's children.
Until Vann does something about these men, he is just as guilty as Roger Mahony or any of the other men who, when they could have saved a child's life, instead chose to sit on a throne, protect criminals, and spend the faithful's millions.
This is not a matter of forgiveness. It's about accountability:
Everyone to whom much was given, of him much will be required, and from him to whom they entrusted much, they will demand the more. Luke 12:48
As usual, Gustavo said it best:
And I'm reminded anew why we cover the Orange diocese sex-abuse scandal: Whether the revelations happened last week or 30 years ago, whether those in charge are still around or dead, it's Orange County's worst-ever crime, one in which justice is nowhere near served. OC doesn't care about Lenihan anymore—and that's why we write and will continue to do so until God calls us to our reward, whatever it may be.