For tomorrow's event in Honolulu …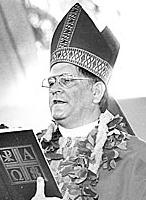 Fmr top Catholic official accused of abuse
Victim speaks publicly for the first time
He says he was 7 when ex-Honolulu bishop molested him
New lawsuit is one of more than two dozen filed since 2012
WHAT:
Holding signs and childhood photos at a news conference, a third alleged child sexual abuse victim of a now-deceased Honolulu Catholic bishop will speak publicly about his abuse for the first time. He'll discuss why he's filing a civil abuse and cover up lawsuit, and
–how he tried to warn neighbors and reach out to other survivors,
–how church officials flew to his home and tried to silence him, and
–how he hopes to encourage other survivors to reach out, and get help.
WHEN:
Tuesday, December 10, 2013 at 11 am
WHERE:
7 Waterfront Plaza, 500 Ala Moana Blvd., Suite 400 in Honolulu
WHO:
The alleged victim and another abuse victim who is a leader of SNAP, the Survivors Network of those Abused by Priests (SNAPNetwork.org), the nation's largest support group for men and women sexually abused as children in religious and institutional settings.
WHY:
A third alleged victim of former Honolulu Bishop Joseph Ferrario is filing a lawsuit and coming forward publicly saying that the cleric sexually abused him.
The man, who now lives in Las Vegas, was a seven-year-old student at Kailua's St. Anthony's grade school in 1975 when, he says, then-Fr. Ferrario began to groom and sexually molest him during and after school hours. Ferrario allegedly assaulted the boy in rooms on church property for roughly three years.
The alleged victim is the third man to come forward and file a lawsuit accusing Ferrario of abuse. In 2012, former St. Anthony's parishioner Mark Pinkosh came forward and accused Ferrario and Kailua priest Joseph Henry. Ferrario was first sued for child sex crimes in 1993 by a now-deceased Honolulu man David Figueroa.
All three boys were allegedly molested during roughly the same time period at St. Anthony's.
Copies of the lawsuit and photos will be available at the event.