On October 5, the Archdiocese of St. Paul & Minneapolis, which has been mired in a sex abuse and cover-up crisis, announced that an "independent" task force will convene to investigate how archdiocese officials handled abuse allegations, as well as review policies and procedures in place.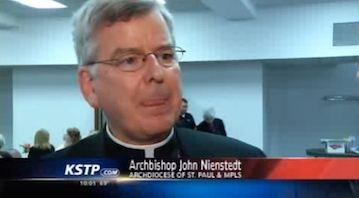 The official announcement stated that "The Vicar [Fr. Reginald Whitt] and the task force, which will convene this week, will have full authority and all the resources needed to complete their work. The findings and recommendations of this task force will be released publicly when the final report is complete."
Then, less than two weeks later in a letter to clergy, Rev. Reginald Whitt wrote "Access to these files will be within my control, and limited only to what is necessary for the Task Force to be able to make an informed decision with respect to their policy review."
Sound familiar? It's the same tactic that bishops have been using with lay review boards for years: make a big announcement about being "open and transparent," appoint a review board, then, when media attention dies down, tie the board members' hands behind their back and throw them under the bus.
It's public relations, nothing more.
There is no way that any bishop would allow anyone without a search warrant and the swat team to come in and have access to secret files. This task force, like lay review boards, is "consultative"—they are formed and exist at the whim of the archbishop. That means that Archbishop Nienstedt never had any intention of allowing real access or transparency. He's not even backpedaling—it was his intention all along to make sure that this board was nothing more than a puppet.
Nienstedt wants good headlines. And he will play whatever game is necessary to get them. Unfortunately for him, he was dumb enough to show his hand early in the game.
My recommendation to the members of the task force: Quit. Quit publicly and loudly. Make statements about how you really wanted to make a difference, but were instead manipulated into becoming PR ploy. Then tell what you know and stand with victims.