What do you do when your umbrella organization files for bankruptcy (to avoid costly sex abuse civil trials); ten of your former teachers are exposed as perpetrators; and at least 15 former students come forward to say they were sexually abused by your teachers and brothers?
Swindle the state of Hawaii out of $1.5 million, of course.
Damien Memorial School, Honolulu's hotbed of alleged child sex crimes, has just been granted $1.5 million in state (read: taxpayer) money for capital improvements. The problem? Damien fudged on the application, dramatically and untruthfully understating the legal mess they are facing because of child sex abuse and cover-up.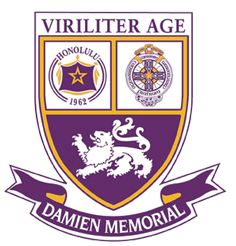 From page 11 of the application, dated January 2013:
The applicant shall disclose any pending litigation to which they are a party,

including the disclosure of any outstanding judgment. If applicable, please

Three lawsuits are pending against Damien and the Roman Catholic Church in

Hawaii for which Damien has denied all allegations and is represented by

counsel for the Diocese. No judgments have been entered.
There is no mention of the 15 legal claims that were pending against the school at the time. (the $16.5 million settlement was not announced until May 2013). Nor is there any mention of the fact that victims still have the right sue the school and a civil window granting them the right to do so.
The school could be on the hook for millions in compensation for the kids who were sexually abused by priests and brothers while they were Damien students. But the Christian Brothers of Hawaii have no problem raiding public coffers – money much better used for the public schools in the state.
Damien officials KNEW that were knee-deep in legal trouble when they filled out the grant application. But did they disclose? No.
No matter your opinion of Damien, factual omissions on applications for public monies are wrong, immoral and illegal. Besides, if Damien officials are "omitting" facts for money, what else will they "omit" as more victims assert their legal rights?
The grant monies should be rescinded immediately. A criminal investigation, perhaps?