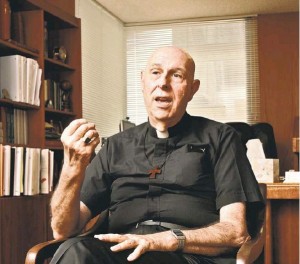 From yesterday's Honolulu Star Advertiser:
Catholic Church, priest named in lawsuit alleging molestation
Patrick Downes, spokesman for the Roman Catholic Church here, said the Diocese of Honolulu has no comment at this time. Bolger could not be reached for comment.

The suit is at least the ninth filed under a state law that permits the filing of sex abuse lawsuits no matter how long ago the alleged abuse occurred. The law allows such lawsuits until April of next year.
What is important to note is that this is the SECOND priest CURRENTLY living in the diocese to be accused in court documents. The other, George DeCosta, who lives on the Big Island, has been accused of abuse by three men. Both of these men can wear clerical collars, say Mass, hear confessions, hang out with kids and do anything else that a priest can. Both are retired, which means that they do not work in a parish, school, or hospital full time. (More than a dozen other predators have been named in Hawaii sex abuse and cover-up lawsuits who are no longer priests, brothers or teachers; or who are deceased.)
Has Bishop Clarence Silva issued an announcement to the communities where these men live? Has he put these two men on any kind of restriction? Has he adhered to the Bishops' own policy of temporarily removing the faculties of any any priest credibly accused of abuse?
No. He has done nothing.
But he did give this charming little interview to the Star-Advertiser. So, now we know where he stands on emergency contraception. But once a child is born, it looks like he doesn't care about the risks his own priests pose … or the healing of victims those priests abused.