It's not like he stole money or anything … because then he would have gone to jail AND been excommunicated.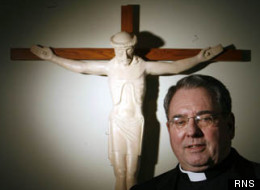 Eleven years after the U.S. Bishops' Conference promised to "Mak[e] prompt and effective response to allegations; Cooperat[e] with civil authorities; and Disciplin[e] offenders," we are offered this charming nugget from the New Jersey Star-Ledger:
Newark archbishop allows priest who admitted groping boy to continue working with children
The article is also full of pictures of Fugee on trips and retreats with teens and adults in the U.S. and Canada.
Victims groups, the Star Ledger, a prominent Wisconsin priest and New Jersey lawmakers have called on Myers to step down, saying the archbishop has displayed "arrogance" and a lack of common sense over his handling of the Rev. Michael Fugee, 52, who admitted fondling a 14-year-boy in 2001.
Parishioners are rightfully disgusted, saying that they were not warned that the priest was a child predator.
Myers has remained silent, saying through a spokesperson that Fugee is a priest allowed to remain in ministry (and inferring that if Fugee breaks his promises and hangs out with kids, well, then that's the KIDS' problem).
Disgusting.
Don't forget, Kansas City Bishop Robert Finn remains in his job—without censure from the Vatican—for his child endangerment conviction last year.