On April 5, The Wall Street Journal reported that:
As the church's most powerful official in Argentina, [Pope Francis] didn't comply with a Vatican call to create guidelines for handling sexual-abuse allegations in the country.
But then, in the next paragraph:
On Friday, Pope Francis met with Cardinal Gerhard Ludwig Müller, who heads the office in charge of leading the Vatican's global crackdown on abusive priests and instructed him to continue the Vatican's strategy for fighting sex abuse. The pope urged him to "act decisively with regard to cases of sexual abuse, pushing above all the measures to protect minors," the Vatican said. Swift detection, Vatican officials have said, is crucial to stopping abusive priests.
So I ask: Why is it so important for Pope Francis to crack down on abusive priests NOW, when it wasn't such a big deal three weeks ago, when he was still Cardinal Archbishop of Buenos Aires?
How can he possibly implement a program on a global level when he couldn't even draw up simple guidelines to prevent abuse in his own country … on time?
Yesterday, he couldn't do his homework. Today, he's the principal of the school. Only one conclusion comes to mind – and it's not terribly optimistic.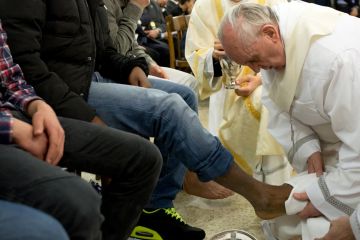 Here's my take: All we have to go on with Francis is his record. Promises are nice. But as every election cycle (no matter the political system) shows us, most of those promises soon forgotten and ignored.
What really matters are concrete and transparent actions with outcomes that are tangible and measurable. And right now, we are not seeing that.
Instead, this is what we know:
As Cardinal of Buenos Aires, Bergoglio "declined to meet" with victims of sexual abuse, as requested by the Vatican.

Although the spokesman for the Archdiocese of Buenos Aires says that there have been no accusations of abuse in that Archdiocese in the past six years, there is at least one church-owned predator priest treatment facility in the immediate area: 

La Domus Mariae (the House of Mary), north of Buenos Aires.

 (If there have been no allegations in the past six years, wouldn't this place be shuttered?)

There is no tangible record of action on the part of Bergoglio or his priests to punish abusers and hold accountable the men and women who protected them.
So while there is much talk of Pope Francis' humility and simple grace, victims must remain wary. Predators and enablers can hide just as easily under a simple while cassock as they did under papal ermine.