Today, LA judge Emilie Elias gave the Archdiocese of Los Angeles a concrete schedule for the public release of thousands of pages of sex abuse and cover-up documents. If all goes according to plan, the redacted files on perpetrator priests will be made public by the end of the year.
The documents were a part of the 2007, $660 million settlement with more than 500 victims of child sexual abuse. More than 200 predator clerics were named as abusers. Lawyers for the Archdiocese and accused priests have spent the past five years (and who knows how much money at $600/hr) to keep the files secret.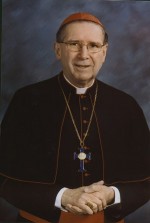 Bad days in store for Cardinal Mahony
In other dioceses (like Orange and Wilmington, DE, to name a few), similar files have shown the severe damage caused by many current and former clerics, and also show how complicit church officials ignored public safety and recklessly put children in harm's way.
The next hearing on the document release will be on December 10. At that time, lawyers for accused (and dead) clerics will have the opportunity to file objections. Hopefully, there won't be any.
In other developments, the secret personnel files of 13 priests were turned over to victims' attorneys in preparation for the upcoming civil sex abuse trial of "runaway priest" Nicolas Aguilar Rivera. Lawyers for the Archdiocese and accused clerics had fought the release all the way to the California Supreme Court and lost.