Last spring, I met a man named Mark Pinkosh. Yesterday, he became a hero.
Mark charges that he was sexually abused by Hawaii priest J. Michael Henry (Also known as Joseph Henry) when Mark was just a boy attending Kailua's St. Anthony's church. When Mark reached out to other adults, trying to get someone to help him, another priest befriended the boy. That priest, Joseph Ferrario, then began to abuse the boy himself. Joseph Ferrario later became the Bishop of Honolulu.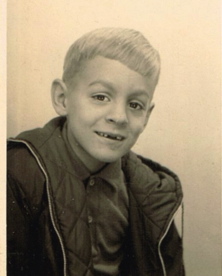 Mark Pinkosh, age 8
Mark's accusations were not the first against both men. Another boy, David Figueroa, came forward in 1991 and filed a lawsuit against both priests. The suit was dismissed because of an archaic statute of limitations, NOT the merits of the case. Mark came forward then to help David, but in the end, both boys were shunned in their communities for coming forward and speaking out about what had happened to them. Mark was eventually chased out of Hawaii, his home. David passed away, never able to get justice for the boy who was abused.
Earlier this year, the law changed. Victims of child sexual abuse now have the next two years to come forward and use the civil courts to expose their abusers, punish those who covered up abuse, and get justice and accountability. Thanks to Senator Maile Shimabukuro, victims can get justice and children are safer from abuse. Mark filed a lawsuit to get to the truth of what the Diocese of Honolulu knew about abusers, when they knew it, how they covered it up.
Mark's life changed yesterday, when he came forward publicly to say that he had been sexually abused as a boy by both Henry and Ferrario. He also came forward to tell other victims that it is safe to report abuse, come forward, and get justice. He finally was able to protect the little boy who was so brutally hurt.
And instantly, he became a hero. And hopefully, he can come home again.