This week, three prominent priests have been arrested and/or investigated for sexual abuse:
In the Archdiocese of Los Angeles: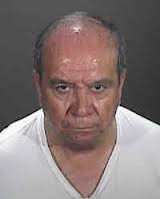 Father Luis Jose Cuevas, 67, a pastor of St. Athanasius Church on Linden Avenue, faces eight misdemeanor charges of sexual assault and one felony count involving lewd acts with a child, according to a complaint filed by the L.A. County district attorney's office. Superior Court Judge James Otto set his bail at $260,000.
and
Santa Monica Police are investigating allegations that Father Rafael Venegas, pastor of St. Anne's Parish, assaulted an adult woman in the church parking lot last September.
The response from Los Angeles Archbishop Jose Gomez? Nothing. No words of solace for the alleged victims. No words of comfort for confused and scared Catholics. He sent his spokesman instead.
In the Archdiocese of Philadelphia:
Andrew McCormick, 56, has been charged with involuntary deviate sexual intercourse, statutory sexual assault, sexual assault, endangering the welfare of a child, corrupting the morals of a minor, indecent assault and indecent exposure in connection with an alleged 1997 incident, Philadelphia District Attorney Seth Williams announced Tuesday.
McCormick was one of the 21 priests placed on leave after the 2011 Philadelphia Grand Jury investigation of sexual abuse in the Archdiocese of Philadelphia. It is estimated there are more victims.
Philadelphia Archbishop Charles Chaput, who has no problem speaking out for "religious freedom," is silent when it comes to the pain and suffering the children in his Archdiocese.
Both archbishops should be ashamed of their lack of pastoral leadership in such a painful time for their flock.
You can see the full list of Philadelphia accused priests here or here.  Los Angeles' list can be viewed here or here.