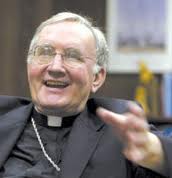 On a lark, I looked up the Wikipedia entry for Orange County Bishop Tod Brown.
I was inspired after I saw that Bishop Accountability had just completed a newer edition of Brown's assignment history. Bishop Accountability included details of the sex abuse allegation against Brown, as well as the fact that Brown had refused to disclose the allegation, calling it "very embarrassing and very painful."
I admit that I am guilty of using Wikipedia for references on my own blog posts. But after reading Brown's entry, I'm going to have to rethink that practice.
The Wikipedia entry – no doubt edited by Brown's PR people – makes NO mention of the $100 million settlement with 97 victims of abuse in 2005. It makes NO mention of the 1997 allegation against Brown (which was front page news); NO mention of the 2007 settlements with four women who were sexually abused as children; NO mention of the fact that Brown was charged with contempt for allowing John Urell to flee the country in order to avoid a deposition; and NO mention of last month's $2 million settlement with a victim of Michael Harris.
His entry has been scrubbed so cleanly of the facts, that it shines as brightly as his new glass cathedral.
Too bad Brown can't be just as transparent.