When Vatican officials selected a bishop to head the effort to go after the American nuns of the LCWR and accuse them of wrongdoing, you might guess they'd be very careful to pick a prelate who is clearly beyond reproach.
Guess again. The church hierarchy – taking the suggestion, some insiders say, of disgraced Cardinal Bernard Law – tapped Seattle Archbishop Peter Sartain to head up the "investigation" into the largest group representing Catholic sisters, the Leadership Council of Women Religious (LCWR).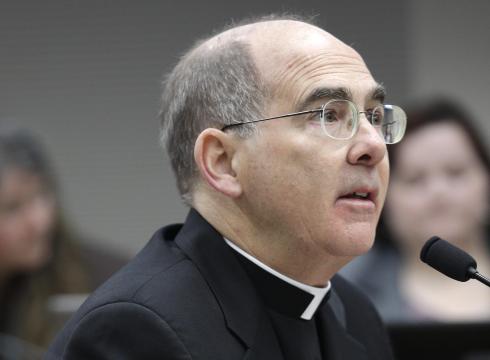 But it's Sartain, not the nuns, who should be investigated.
Let's focus on two clergy sex abuse and cover-up cases Sartain handled back when he was the bishop of Joliet Diocese. But before you assume I'm digging up ancient history, please notice that each of these cases took place within the last three years (long after America's bishops pledged they'd have "zero tolerance" for clergy sex offenders and "openness and transparency" in clergy sex cases).
Case #1
In the spring of 2009, a Joliet diocesan seminarian named Alejandro Flores was caught with porn, prosecutors say. (According to one news account, "Though the website posted a disclaimer saying the people involved in the sex acts were not minors, a prosecutor said Catholic officials were concerned some of the images appeared to be those of young boys.")
Months later, in June of 2009, Sartain ordained Flores anyway.
And six months after, in January 2010, Flores was arraigned on charges of molesting a boy twice earlier that month.
In September 2010, Flores pled guilty.
And that same month, Pope Benedict promoted Sartain to head Seattle's archdiocese.
Keep in mind, by the way, that it's pretty clear that Bishop Sartain knew of Flores' misdeeds before Flores was ordained. Joliet is a relatively small diocese and no one has suggested that Sartain's underlings concealed Flores' misdeeds from him.
Case #2
The same month that Flores was arraigned, a brave man reported to Bishop Sartain's staff that he had been molested as a child by two Joliet area priests. Both of the clerics – Fr. Lee Ryan and Fr. Kevin McBrien – were still in ministry.
Five months later, however, neither Sartain nor his staff had taken any action about either priest. The worried and frustrated victim contacted SNAP. At a sidewalk news conference, SNAP disclosed the allegations. Finally, the child molesting clerics were temporarily suspended.
Many months later, a Joliet chancery office staffer eventually told the victim – privately – that his abuse report was deemed "credible" and that one of the priests would never be restored to ministry. But even then, Sartain chose secrecy, refusing to disclose the finding or his decision publicly, leaving parishioners in the dark about whether or not this priest is a pedophile.
And he's maintained that secrecy to this day. Ask a friend or relative of Fr. Ryan or Fr. McBrien about the status of the church "investigation" into child sex abuse allegations against either of them, and you'll almost certainly be told that there's been no resolution.
So in 2010, Sartain kept kids at risk for at least five months by keeping silent about child sex allegations against them. He's kept kids at risk even since by his continued silence.
In sum, Sartain has done a terrible job on abuse and cover up in Joliet. He was promoted nonetheless, showing again, that bishops who ignore or conceal child sex crimes keep getting rewarded, not punished. And now he's been rewarded again – with a high profile role leading an extensive Vatican-sponsored probe into whether US nuns are overemphasizing poverty-fighting work or picking a few controversial conference speakers.
I think Bishop Sartain needs to remove the monumental log in his own eye before he has any moral authority to investigate the women who have lived the biblical teachings of Jesus.  It makes me wonder if Sartain goes to sleep every night saying the "Prayer of the Pharisee," (Luke 18-11). If you don't know it:
The Pharisee stood by himself and prayed: 'God, I thank you that I am not like other people—robbers, evildoers, adulterers—or even like this tax collector.
Yeah, those "other people." Like nuns and sex abuse victims.