Fr. Justin Wachs was hiding out. After getting caught sexually harassing a parishioner in 2014—touching her without permission and leaving her suggestive notes— he quit his job as pastor in Sioux Falls, South Dakota.
Church officials thought the "geographic solution" would be best: get him as far away from Sioux Falls as possible. They even had a job for him: investigate allegations of sexual abuse.
Where did he end up? Guam and Hawaii. Locked in rooms with the victims of Archbishop Anthony Apuron … rooms where their attorney, David Lujan, was not allowed.
I have been very vocal in my criticism of the Canonical Trial of suspended Guam Archbishop Anthony Apuron.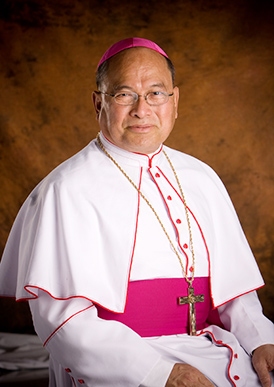 For those of you just catching up, Apuron has been accused of child sexual abuse by at least four boys. He's out of the office for now, replaced by Detroit native Coadjutor Archbishop Michael Byrnes.
The trial process, which will take months—if not years—to complete, is not a criminal process like you or I know it. It is not public, there is no jury, there is no prison sentence.
In fact, I believe that in the end, the decision will be to allow Apuron to live a life of "prayer and penance" on the mainland. And I am betting that the decision will be kept secret.
What does that mean? Whatever Apuron wants it to mean.
Remember: this is not a criminal proceeding. No one is going to drag him off in handcuffs. Most likely, he will collect his retirement and frolic around the mainland, untouched.
For Apuron's Victims, Tribunal is No Joke
But there are a lot of people who take the Vatican process very seriously. Apuron's victims testified in front of the tribunal—without their attorney present. That took a great deal of trust. A great deal of trust in their church. A great deal of trust in the process.
But what if that trust had been misplaced?
What if one of the men in the room had resigned from his parish for sexual harassment claims just three years ago?
KELO in Sioux Falls just published a three-part series on the case of Fr. Justin Wachs. They published unwarranted and inappropriate letters that the priest sent to an employee. They showed memos from meetings the employee had with diocese officials in the hopes of getting the harassment to stop.
They interviewed the alleged victim, who discussed what happened afterward: the priest's retaliation that led to his eventual resignation.
And they even mentioned where he has been recently: on Guam, investigating cases of child sexual abuse.
Fortunately, that's not the only place you'll see his name.
According to a May 8, 2017 Guam Post article about the Tribunal interviews with Apuron's victims:
[The victims] spent several hours each with five individuals, including Cardinal Raymond Burke, notary Father Justin Wachs, Father James Conn and two attorneys who represented Apuron …

Father Wachs told Apuron's accusers the judges could find Apuron guilty, find him innocent or find there is not enough information allowing Apuron to appeal …

[The victims] were told the proceedings would not be shared publically, but the Vatican's decision on Apuron would. Father Wachs assured them a decision is expected by "early summer."
Well, we know that the "early summer" statement was not the first of Wachs's truth-stretching.
And now we know that the Vatican takes the Canonical Trial about as seriously as I do.