This week, a lawyer for the Claretian Missionaries announced that Bruce Wellems was forced to petition the Vatican to give up his collar.
That's right. He can't be a priest.
For those of you who have been following this blog, that's huge news. But for this person, it's vindication: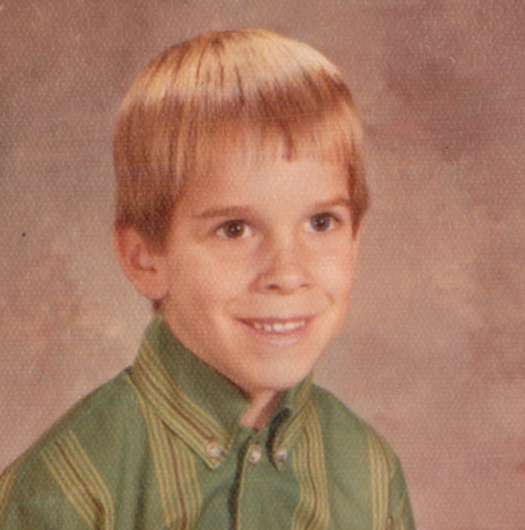 That's Eric Johnson. Bruce Wellems was 15 when he sexually abused seven-year-old Eric. I don't say "allegedly," because Wellems has admitted it.
Eric has been fighting for years to expose what happened to him and to get some semblance of justice.
According to the Chicago Tribune:
"I could have chosen to remain anonymous, but I did not, which was not easy for my family nor myself. Yet I continue to push for justice," [Eric Johnson] said. "[Wellems] is a danger to the kids and the community."
Wellems contends that his good work since the time he abused Eric should make up for his past. But here's the rub: Not once has he apologized for what he did to Eric and/or may have done to others. Not once has he understood the lifelong pain that sexual abuse causes victims.
In fact, in 2014, when I first learned of the allegations from documents that had been leaked to SNAP, the Survivors Network—but before I met Eric—we did an event in San Gabriel after Wellems had been booted from a parish there by Archbishop Jose Gomez. Parishioners had been led to believe Wellems' removal was due to a misunderstanding in a "consensual dating relationship" when he was a teenager.
The parishioners said they were informed that Wellems was asked to resign after a record surfaced of inappropriate behavior with another minor when Wellems was 15 years old.
In the San Gabriel Valley Tribune, Wellems made the following statement:
Wellems said in a statement he is still a priest and is on sabbatical in Chicago. He said while he supported the mission of SNAP, he was disappointed in the accusations made by the organization that had "no factual basis."

"I am appalled and disappointed in their poor judgment to reveal my juvenile past, thus discrediting my good work. Worse still for me, in their quest to protect victims, I feel as if SNAP, with this announcement, is victimizing the thousands of families in the parishes where I have worked," Wellems said. "These people have made great strides to be transparent and understand what it is to be healthy faith communities."
He made himself the victim.
Eric was a second grader. Wellems—as a teenager—used sex as a tool to overpower and victimize a little boy. And not once has Wellems apologized. That makes him very, very dangerous.
So yes, there is some good news. But there is also troubling news:
Wellems still runs a nonprofit that works with at-risk youth in Chicago. Rumor has it that fallout from the recent legal settlement is ruffling feathers and that his future there is at risk.
He has also been "cut loose," so to speak. The church is washing its hands of him. Now, unfortunately, it will be up to people like Eric and me (once again, the burden is on the victim) to keep a look out and make sure that Wellems doesn't wash ashore at another youth-serving organization.
Ideally, the church would strip Wellems of his collar and put him in a secure location, where he would have no contact with youth. But that would be common sense, no?
We have to accept the little victories where we get them.