<– Back to Part One: Altoona-Johnstown
Last month, Crookston, MN Catholic deacon and child sex abuse survivor Ron Vasek (pictured above) came forward and filed a lawsuit saying that "Crookston Bishop Michael Hoeppner threatened to undermine his religious work and that of his son's [a priest in that diocese] if he didn't retract a child sex clergy abuse claim."
This alleged threat happened in 2015. Yes … 2015. As in TWO YEARS AGO.
Vasek says he was sexually abused as a child by Monsignor Roger Grundhaus, the former Vicar General of the Crookston Diocese, a very powerful and well-known priest.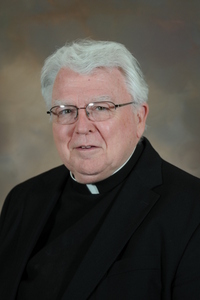 According to the lawsuit, during a closed-door 2015 meeting, Hoeppner said that Vasek's son's priestly career would be in jeopardy if he didn't sign the document saying he was never sexually abused by Grundhaus.
That's bad news. No one likes to ruin their son's vocation. So Vasek signed the letter. And he immediately regretted it. So in 2017, Vasek decided to come forward and tell the truth.
But the story gets better: at the time of the 2015 meeting, Hoeppner was under court order to turn over the names of all clerics credibly accused of abuse to lawyers for victims. He did not turn over Grundhaus' name. That's mighty convenient.
Hoeppner allegedly wanted Vasek to sign the letter because "Msgr. Grundhaus was unable to minister in other dioceses because they had a plaintiff's report of abuse in their files."
Vasek says he had previously told Hoeppner that he was abused by Grundhaus when he was considering enrolling in the diocese diaconate program in 2010. According to the lawsuit, Bishop Hoeppner said the abuse should not be a problem, as long as Vasek (the victim of child sex abuse, mind you) didn't tell anyone else.
Nice.
Will there be charges against Hoeppner for defying the court order? Who knows …
Up next, Part Three: A Problem Priest in Chicago. The Problem? His victim won't go away.