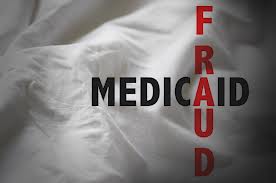 You bet they did.
A wealthy Minnesota Catholic religious order and a Catholic-owned rehabilitation hospital engaged in potential Missouri Medicaid insurance fraud to get free health care for a sex-offending priest, a newly released document shows.
The 2014 document, released as a part of a legal settlement against the Benedictines of Minnesota and sex-offending priests, show that the order withheld money from a priest in their employ—so that he would seem indigent and his health care would be paid for by the State of Missouri.
The document is stamped OSB McDONALD-OO861. It is page 420 of the pdf at the link.
The priest, Fr. Finian McDonald, admitted to having more than 200 sex "partners," including his college-age counseling clients, high schoolers, sex trafficked children in South East Asia, and other adults. He was sent to a church-operated center for sex-offending clerics in Dittmer, Missouri in 2012.
He became ill in 2014 and was sent to Price Memorial, a nursing home run by Franciscan Missionary Brothers in Eureka, MO. The social service director of Price Memorial, Julie Whitley, LCSW, is copied on the memo.
The Benedictines own St. John's University and Prep School in Minnesota, as well as a sprawling 2500-acre campus outside of the Twin Cities. They also own a publishing company. I think they could afford McDonald's bill.
The letter, signed by Abbot John Klassen, the head of the Benedictines, and sent to McDonald and representatives at Price Memorial, says that the Benedictines can only send McDonald $45 a month. Otherwise, the letter goes on to say, "any money over $45/mo impacts the aid that you receive from the State of Missouri."
McDonald is now back in Minnesota.
And Missouri is stuck with the bill.
Hopefully, local authorities will take a look. If Missouri's taxpayers have been bilked out of hundreds of thousands of dollars, I think an investigation is in order.