One of the ugliest, most painful Catholic diocese bankruptcies has come to an end. Just in time for Pope Francis to visit the U.S.
I haven't spoken much here about the Milwaukee Archdiocese Chapter 11 bankruptcy. But today, they settled with victims after—what victim's attorney Jeff Anderson calls—"four and a half years of drawn-out, painful legal battles resulting in millions of dollars in legal fees to bankruptcy attorneys."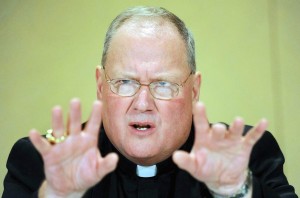 Only 330 of the 575 who filed claims will get compensation. The archdiocese lawyers worked hard to get a ton of cases tossed—like that of advocate Peter Isely—because he was a longtime outspoken critic and survivor. I guess if you help other people get justice, the Archdiocese makes sure you get no compensation of your own.
The 330 survivors will receive $21 million.
Documents exposed in the bankruptcy showed a widespread cover-up. From FOX 6:
These documents detailed Cardinal Timothy Dolan and the Vatican's role in sexual abuse cases and demonstrated how church officials and the Vatican repeatedly denied sexual abuse survivors justice by failing to act with urgency on reports of sexual abuse, often waiting years to remove a priest from ministry who had credible allegations of child sexual abuse.
But what the bankruptcy will be best known for is the infamous "cemetery fund." From The Wall Street Journal:
In 2007, four years before the archdiocese filed for bankruptcy, Milwaukee Archbishop Timothy Dolan, now Cardinal Dolan of New York, transferred about $55 million to a new trust created to provide for more than 1,000 acres of cemetery land. The land serves as the final resting place for more than 500,000 people, according to the archdiocese's website.

The archdiocese contends that the funds have always been intended to provide for its cemeteries. But in a letter to the Vatican the same year the trust was created, then-Archbishop Dolan suggested the transfer would help defend the funds against future lawsuits.

"By transferring these assets to the trust, I foresee an improved protection of these funds from any legal claim and liability," he wrote in the letter, a copy of which The Wall Street Journal has viewed.
For a great inside view on the Milwaukee Archdiocese and sexual abuse, watch Alex Gibney's HBO documentary Mea Maxima Culpa: Silence in the House of God, available on demand.