If Pope Francis were truly sorry for the sexual abuse of children in the Catholic church, he's take a gander at a little Catholic diocese is California, where a cleric found guilty of abuse in a civil trial is still a powerful priest.
Here's the situation: Fresno priest Eric Swearingen was recently appointed the pastor of a Visalia, California, parish and will oversee four parishes and a school.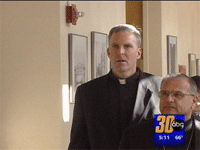 The problem? Well in 2006, a civil jury found 9-3 that Swearingen had sexually abused Army Sgt. Juan Rocha when Rocha was a child. 
How is Fresno Bishop Armando Ochoa able to justify this? Well, his predecessor Bishop John Steinbock said the jury "got it wrong." But Ochoa takes a different tack.
Swearingen's trial ended in a mistrial because the jury did not think that the Fresno diocese was liable for the abuse. So Ochoa believes that Swearingen has a "get out of jail free card" and that his civil guilty verdict doesn't count.
But remember: a CIVIL JURY found the Swearingen HAD abused Rocha. And in a 2008 settlement, the Diocese of Fresno settled with Rocha for a large, undisclosed sum.
This is low-hanging fruit for Francis. Why should victims accept the Pope's apology when men like Swearingen are frolicking around with full access to children?
In a Visalia Delta-News article about Swearingen's recent appointment, the cleric's supporters, including a private eye hired for the family, are still trying to damage Rocha's credibility. Parishioners applaud how Swearingen can "relate" to them. That alone should send chills down your spine.
How many more court victories does Rocha need to show them that Swearingen must be removed?
The only way that this will change is if parishioners stand up and raise a stink. Refuse to go to Mass. Protest. Hold meetings and invite the media. Tell Bishop Ochoa in a very public way that they deserve better than a priest who was civilly found guilty of child sexual abuse. They must tell Bishop Ochoa and Pope Francis that children and victims are far more important than predator priests. Parents and parishioners NEED to stand up for their children.
Because "Zero Tolerance" is a failure. Francis' failure.