According to the Riverside Press Enterprise, two victims of convicted priest Alejandro "Alex" Castillo settled their sex abuse and cover-up lawsuits against the Diocese of San Bernardino for $3.8 million.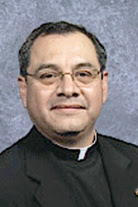 In a statement, the diocese called Castillo's acts "sinful and unlawful."
They also added this:
The diocese acknowledges and deeply regrets the sinful and unlawful actions of Castillo, while noting it took immediate action to remove him from ministry and notify police as soon as the allegations … were known.
Why do I have doubts? Hopefully, a third outstanding lawsuit will expose the truth.