St. Paul & Minneapolis Archbishop John Nienstedt has been accused of abuse.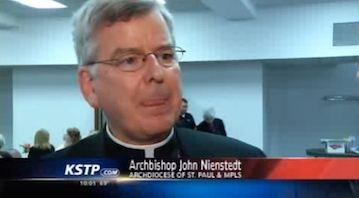 According to a statement by the Archdiocese
An allegation has been brought by a mandated reporter within the Church to the St. Paul Police of inappropriate touching of a minor male on the buttocks by Archbishop John Nienstedt. The single incident is alleged to have occurred in 2009 during a group photography session with the archbishop following a confirmation ceremony.
Note – this is not a part of a lawsuit. It is a report by a mandated reporter made to the police.
Updates soon.