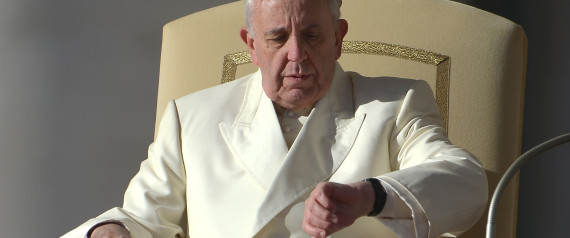 Everybody has a crush on Pope Francis. He drives a car! He eats with the priests! He cold calls Catholics who write him letters!
But wait, there's more!
He used to be a bouncer at a bar! He reportedly sneaks out at night to feed the poor! He speaks out against those nasty capitalists (whose donated money is the principal funding source for Vatican City, BTW).
Wow, with all of this action, he would have to take decisive action on the clergy abuse crisis, the first and foremost problem in his own nest, right? Eh, not so much.
Instead, he formed a committee! (Insert sad trombone here)
Not only that, but he refused to answer the UN Committee on the Rights of the Child's questions about child sexual sexual abuse. Apparently, Francis only takes action when solving OTHER people's problems.
C'mon Francis! You blew it. This was low-hanging fruit! You could have been on the fast track to sainthood. All you need to do are a few simple things:
You can start by the easy, symbolic actions. First, you strip Roger Mahony of any titles, power or significance. After that, you fire Kansas City Bishop Robert Finn (I mean, really, he's CONVICTED of child endangerment). This is easy stuff. Send them both to the villages of Western Alaska, where they can live in abject poverty and devote the rest of their lives to the victims of Jesuit priests there.
Then, you move on to Bernard Law, that portly grey-haired guy who lives down the street from you. Can him. Strip him of all his titles and power. Then send him back to Boston and make him live in Southie. Make him wear a t-shirt that says, "Yes, I am Bernard Law. I promoted the guy who raped your cousin." On laundry day, he can wear his "Born and Bred Yankee Fan" jersey. That should do it.
Those would be some good first steps.
Your committee? Lame. We all see right through it. You don't care about making real change and you don't care about victims because they are "inconvenient" to your agenda. If you truly cared about the world, you should start with the mess in your own basement. Now.