It's too easy to forget that many memories are magic and that a entire lifetime of love can come from something as simple as a Santa Ana neighborhood.
This morning, my dad and I went to the funeral of Larkin Bean. He's the kid in the brown shirt smack in the middle of the front row of the photo below. I'm the baby. Other kids in the photo include Vicky Bruce (the mastermind behind The Worthy Adversary), Larkin's sisters Hillary and Victoria, my sister Jennifer, the Gallivan kids, and Jim Croal.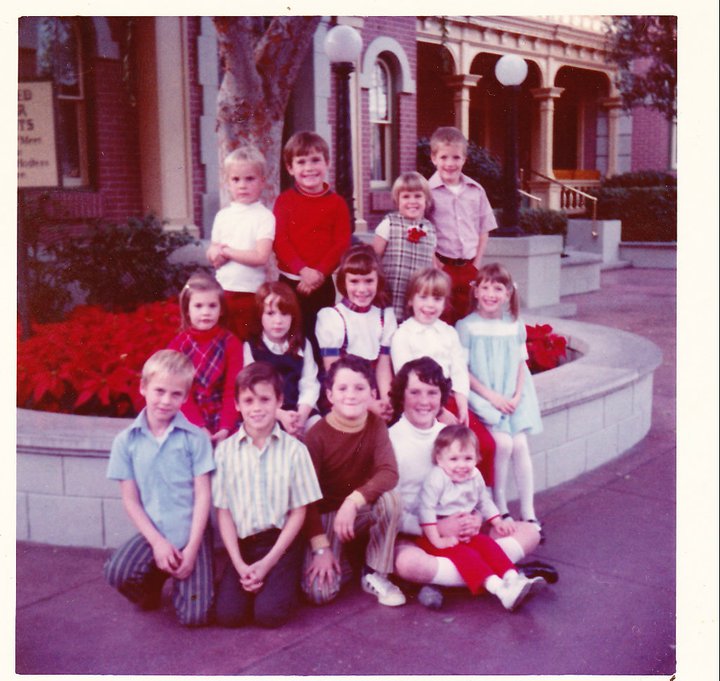 Of the kids in this photo, four of us were at the funeral today. The parents of every other child, except for two (one set of parents have already passed) were also there. I knew most of the faces in the funeral chapel and was able to hug and connect with everyone I knew. Some I had not seen in more than 20 years.
At the reception afterward, Larkin's mother Jeanette came up to my dad, held him tightly, and said, "John, you are my oldest and best friend." My dad quietly smiled, because it was true. They met the first day of the second grade at St. Joseph's School in Santa Ana almost seven decades ago. As adults, they lived just a few blocks from each other, allowing their children to share their lives. Watching my dad and Jeanette's 75-year-old faces as they spoke to each other, I saw the 7 year olds they once were. It was magic.
Spending time with everyone, especially Larkin's sisters, and being surrounded by such love, history, and compassion, reminded me of something that I am too quick to forget: For all of the bad that we experience and remember, we must also remember the magic of a day at Disneyland in 1972. We must remember the magic that keeps us together before the untimely death of someone we love. I must remember how my father and Jeanette magically transformed into the second graders who became best and fast friends. I need to look at this photo and appreciate how blessed I am still in contact with most of the kids surrounding me.
Larkin was a sap for the old stories and remembered everything that happened in the neighborhood. He reminded me of things that I had forgotten and told me stories about my mom that made me smile. He didn't need to be reminded of the magic. He remembered the magic and relished it. And he let us share it.
Maybe that was his gift to all of us.