Jesus has left the building.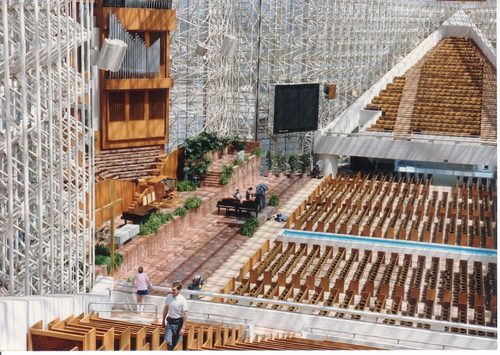 I have always thought that the Diocese of Orange's purchase of the former Crystal Cathedral was a good business decision, but a horrible pastoral one. And the bad pastoral decisions keep coming.
But first, a little background:
No one except former Bishop Tod Brown wanted a new cathedral. There was no parishioner outcry for a new ediface, and construction on the "Christ our Savior Cathedral" land in Santa Ana was stalled for years due to lack of funding and interest by Orange County Catholics.
But the bargain price of the Crystal Cathedral in 2012 was too tempting for Tod Brown to pass up—even though poor parishes just a few miles from the Crystal Cathedral were forced to hold bake sales to pay for basics like air conditioning.
Previous score for the Diocese of Orange: Business 1, Jesus 0.
Which leads me to yesterday's column in the Orange County Register.
The diocese is removing memorial stones on the Crystal Cathedral site's "Walk of Faith" as a part of their remodel of the campus. Crystal Cathedral donors had paid up to $3000 for the stones to memorialize deceased loved ones, and now, donors are mad.
Not terribly surprising.
But what really surprised me was what came next in the article. I expected Bishop Kevin Vann to be quoted saying something. Anything. Maybe he would talk about how he understands the pain and suffering of the donors and wants them to help him figure out a solution. He could even invite them to a special blessing ceremony where they could re-dedicate some other kind of memorial. Heck, he could at least offer to pray for them.
Nope.
Bishop Vann said nothing. He left the response to the CEO of the Christ Cathedral Corporation (!), Fred C. Helms. Helms handled the situation in the secular, corporate way that one would expect from a former commercial banker:
"The name of the person they donated to, and the obligation they received was from who?" he asked. "Yes, Robert Schuller. So we are, in essence, like a new homeowner." Do we even have a legal responsibility to tell (purchasers) what we are doing? No, we don't."
Ouch. I'm not seeing a whole lot of "What would Jesus do?" here.
Final score: Business 2, Jesus 0
If this is how Bishop Kevin Vann treats sad and angry people who just need a little pastoral outreach, how does he treat victims of abuse who come forward for help, love and pastoral support from their bishop? Oh wait, he and his fellow bishops are spending millions to deny victims legal rights.
Silly me.