MARK YOUR CALENDARS
Pulitzer Prize-winning author Michael D'Antonio is coming to the west coast to talk about his new blockbuster MORTAL SINS.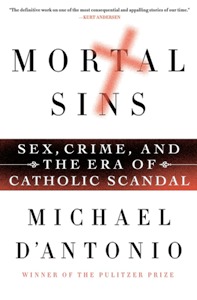 D'Antonio and a panel of experts—including local-area advocates and survivors—will present a gripping discussion on the clergy sex abuse crisis in the United States.
Publishers Weekly calls MORTAL SINS "The definitive history of the Catholic Church's 'most severe crisis since the Reformation'" and Booklist hails the book as a "gripping and affecting to the last word." This is a MUST SEE event.
All dates are free and open to the public.
SAN DIEGO, CA
Wednesday, June 26, 2013 at 7 pm 
Alliant University, Green Hall
Co-sponsored by IVAT, the Institute on Violence Abuse and Trauma 
Panelists will include church expert A.W. Richard Sipe, attorney Irwin Zalkin, former priest/now advocate Patrick Wall, and others.
FULLERTON, CA
June 27, 2013 at 7 pm 
Fullerton Public Library – Presented as a part of Gustavo's Awesome Lecture Series
Panelists will include attorney Jeffrey Anderson, Patrick Wall, and Joelle Casteix
SAN FRANCISCO, CA
Saturday, June 29 at 2:30 pm
Mission Cultural Center Theater
Panelists will include Bay Area survivor Tim Lennon, attorney Jeff Anderson, and Patrick Wall
SEATTLE, WA
Sunday, June 30 at 7:30 pm
Panelists will include Seattle-area survivor Mary Dispenza, attorney Jeff Anderson, and Patrick Wall.
Want to order your copy before the event? Click here.  And be sure to "Like" MORTAL SINS on Facebook.
I'll see you there!