Michael D'Antonio, winner of the Pulitzer Prize and author of the new blockbuster Mortal Sins: Sex, Crime, and the Era of Catholic Scandal will be visiting the west coast for book signings and lecture events.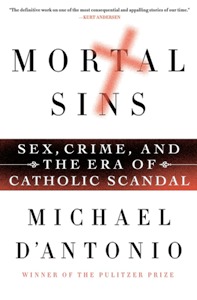 He and a panel of experts, including Patrick Wall, Jeff Anderson*, Richard Sipe*, Irwin Zalkin*,and local survivors will discuss the history of the crisis in the United States, what is happening right now, and pivotal next steps for the movement to prevent and expose sex abuse and cover-up in the church.
Two dates have been announced:
June 27 – Fullerton, California as a part of Gustavo's Awesome Lecture Series
June 30 – Seattle, Washington at Town Hall Seattle
We are working on dates and locations in San Diego, Santa Barbara, and the Bay Area.
Be sure to check back here for more dates and information!
*Note: Except for Michael D'Antonio and Patrick Wall, not all speakers will be at all events.