Because if you can't take a five-time credibly accused priest predator off of your website, how do we know you can follow child safety guidelines?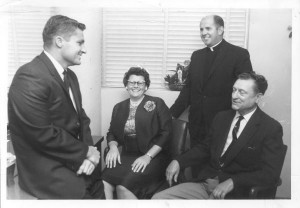 This weekend in Anaheim, more than 40,000 people are descending on the Convention Center for the Los Angeles Archdiocese RECongress, billed as "the largest annual gathering of its kind in the world." The three-day conference, which started in the 1920s as a one-day gathering, has exploded into a three-day Catholic tent revival with entertainment, speakers, masses, events and teen dances. You can read the history for yourself here.
The problem? A founding organizer—who is prominently honored all over the website—is a predator. Leland Boyer is not just any priest perpetrator, he's one of the priests whose file was a part of the LA Archdiocese "Document Dump" earlier this month.

And what a file it is.
Documents recount who how three victims came forward to church officials between 1990 and 2002 to say that Boyer molested them. Although Boyer denied the allegations, Cardinal Mahony and church officials deemed the kids "credible" and put the cleric on restricted ministry in 1995, explicitly keeping him away from the "phone boys" in the rectory. They went so far as to make sure that Boyer visited therapists who "were Catholic and not prone to litigation." Parishioners were not notified of any of the allegations until 2002. After Boyer died, two more victims came forward.
You can read the whole file here.
But you certainly wouldn't know that if you read the RECongress website. Boyer is honored as visionary leader who helped grow the conference annually. Maybe he worked so hard because he had run out of "phone boys" at the rectory. It's disgusting.
By the way – Cardinal Mahony was also scheduled to speak at the conference, but he has another legal commitment and had to back out.  Besides, considering that we now know that he had no problem dumping child-molesting priests into poor, immigrant parishes, his speech on immigration entitled, "For I Was a Stranger, and You Welcomed Me!" is utterly laughable.