The complete library of documents can be viewed here.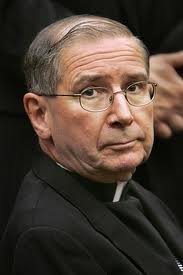 For years, all we heard from Cardinal Roger Mahony was that he "may have made mistakes" and that "new policies would ensure child safety."
Now we know that Cardinal Mahony's role in the cover-up of child sex abuse in the Los Angeles Archdiocese was hands-on, insidious and evil.
From the Los Angeles Times:
From The Associated Press:
In one instance, a memo to Mahony discusses sending a cleric to a therapist who also is an attorney so any incriminating evidence is protected from authorities by lawyer-client privilege. In another instance, archdiocese officials paid a secret salary to a priest exiled to the Philippines after he and six other clerics were accused of having sex with a teen and impregnating her.
The documents described here and others were released in a current legal proceeding against the Archdiocese of Los Angeles by a victim of Father Nicholas Aguilar Rivera. These are NOT part of the documents promised in the Archdiocese 2007 settlement with more than 500 victims of abuse. We are still waiting for those. Who knows what we will learn?
Mahony's response: he prays.
"I have a 3 x 5 card for every victim I met with on the altar of my small chapel. I pray for them every single day"
How utterly insulting.
The complete library of documents can be viewed here.