Tomorrow (Cyber Monday), Jim Dunlap is launching his long-awaited murder mystery/thriller MILLSTONE. He's also donating 10% of proceeds from the book to nonprofits that support victims of child sex abuse and cover-up in the Catholic Church. Pretty worthy, don't you think?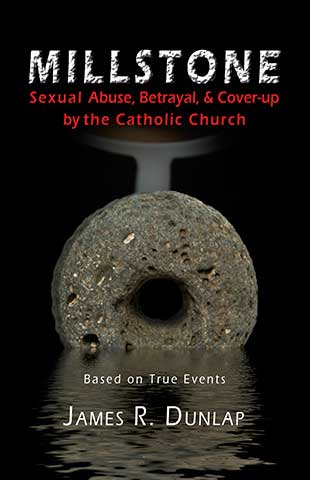 From the Amazon page:
Detective Danni Pierce only wants one thing: justice for the victims of sexual crimes. But she never dreamed that one case–a case involving a Catholic Priest–would lead her down a twisted path of betrayal, cover-up, and murder. When confronted with a danger greater than anything she has ever faced, will her resolve be enough to save her life?

Based on true events, Millstone is the tale of one woman's pursuit of justice, and the only way she will survive is by relying on her dogged perseverance and her faith in those she loves.
Jim is a good friend and a good writer. The book, which adapted from his screenplay of the same name, is loosely based on events surrounding his son. It's definitely worth your time and your $4.99 (for the Kindle version – or $14.99 for the paperback).
You can buy the book at this link Monday, November 26. If you like the book's Facebook page, you can also participate in their Abuse Awareness Event tomorrow, too.
Not only will you support Jim and organizations that help victims of sex abuse, but you can help a book by a small publisher get the recognition and sales it deserves.
And yes … I am getting on to finishing The Worthy Adversary …