Update 5/20/18 PLEASE NOTE: This story is from 2017. I have since separated from SNAP. There are new issues surrounded the organization, about which I have not commented publicly. When I decide to do so, I will link here.
*******
I have remained quiet on the subject of the changes in SNAP, the Survivors Network.

This is because I have been very deeply involved in the recent transition in leadership, our refocus and change in messaging, and the shift from an organization with two founders in power to an organization with a working board, a managing director, and a core of passionate volunteers getting things done.
But after yet another recent article where, once again, the script was that the organization is facing an "uncertain future," I have decided that it is time to shift the narrative and allow SNAP to own its story.
Yes, founder Barbara Blaine and executive director David Clohessy left the organization. But their departure had been in the works since the fall of 2016.
Let's face it: No organization should be run by its founders for decades. It's called "Founder's Flounder" or "Founder's Syndrome."
We all knew it was time for change.
Transition
This transition was in place in November when I was drafted to help the board and then-Outreach Director Barb Dorris with Giving Tuesday (the Tuesday after Thanksgiving where people are asked to donate to charity). My donation was the awesome artwork below that my designer put together. David and Barbara were already transitioning out and had no part in any of this. The program raised a boatload of cash.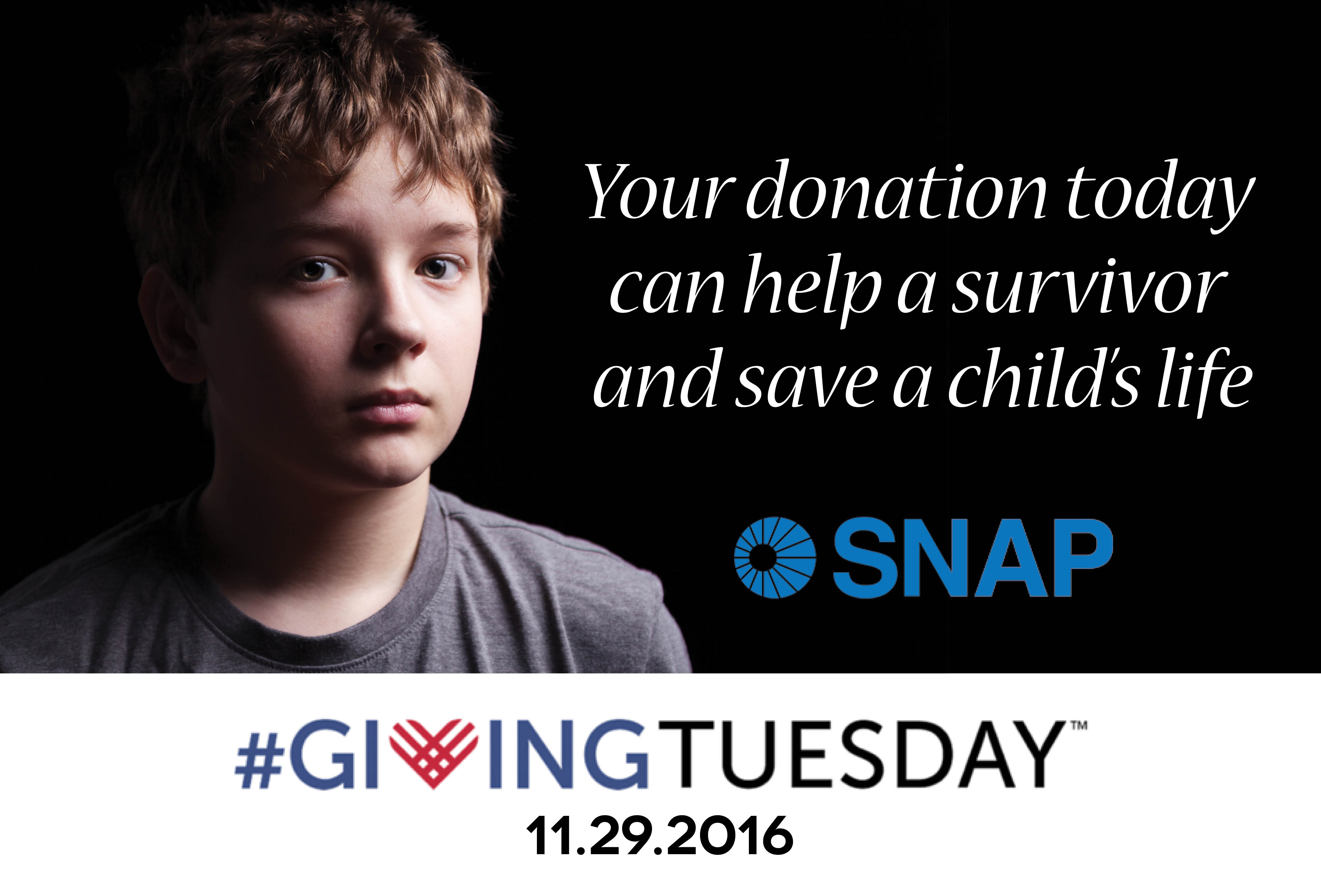 I helped the board and Barb Dorris write a grant that weekend as well. We got it.
The goal was to raise enough money to hire a professional (non-survivor) executive director (or a temporary directory whose speciality is helping organizations through transition).
Then the lawsuit hit in early 2017. SNAP was sued by a former fundraiser. She said SNAP took kickbacks from attorneys for cases.
SNAP doesn't (if the organization did, the coffers would be full and the attorneys would be in jail). SNAP is fighting the case. Note: The woman who sued never filed any kind of whistleblower case or turned her evidence over to any state bar or regulatory agency, which, in my opinion, blows holes in her credibility.
You can read more about it in press accounts.
Then, when David and Barbara officially announced their retirements soon after, it looked like they were leaving because of the lawsuit. It was a mess and it was not true.
From the Ashes
But SNAP didn't let it stop them. Instead of hiring a new executive director, the board decided to make Barb Dorris the managing director until the lawsuit and ensuing financial burden could be figured out.
While our critics were predicting SNAP's imminent demise, we scored another new grant to start support group meetings. Barb Dorris, Megan Peterson, and I were travelling to New York to help survivors there navigate pending legislation and a confusing new compensation program from the Archdiocese of New York.
SNAP volunteers nationwide were still taking survivors calls, making statements, holding events, having meetings, putting together our conference (which will be a blockbuster … even my husband is going), and …
We had the chance to redefine ourselves.
We are slowing rebranding ourselves as "The Survivors Network" to be more inclusive of the vast populations we serve.
We are reaching out to potential partner organizations, organizations who had been shut out in the past. Our focus (abuse in institutional settings) is a little specialized when it comes to grants. But if we partner with other organizations, we can write grants together to help more victims and fund more programs. Our goal: to become more sustainable. Expose more abuse. Stop the cycle.
We are changing our tone. Becoming an organization that is not so polarizing. Creating a succession plan. Building bridges. Increasing our credibility. Everywhere we go, we invite everyone to have a seat at the table.
We don't have to agree with everyone. But we allow everyone to have a voice.
Our board has been pushed into the deep-end of the pool. And you know what? They turned into Michael Phelps. They handle all of the day-to-day operations, in cooperation with Barb Dorris.
The board does everything from budgets and spending, website updates, media and strategy, fundraising, conference planning and implementation, meetings, partnerships. This is all done by a working board of survivors who volunteers their time.
And that's on top of their primary job: talking to other survivors who need help.
Barb Dorris is the glue that holds everyone together. Words cannot describe the respect and love I have for her and what she has accomplished.
We are becoming a proactive, planning organization, looking to the future.
In fact, we are better, brighter, and stronger. The only thing that may hurt us are the lawsuits (there are a couple of others, in states where there is no anti-SLAPP legislation). The goal of these suits is to bankrupt SNAP.
And they may succeed. We are prepared to face that. But that doesn't mean we sit around and do nothing in the meantime.
But hopefully now that we have a new leadership structure, we won't have to worry about these lawsuits anymore.
We are no longer polarizing. We are ready to ascend to a new level of credibility and professionalism, prepared to help more victims, expose more abuse in more institutions (no matter the stripe) globally, and help end the cycle of abuse and cover-up.
If the vibrancy of our people is any indication, this amazing group of empowered survivors is only going to grow and thrive.
Nothing can throttle that.
And yes, you can donate here.